Bedouine: The Best of What's Next
Born in Aleppo, but raised in America, Bedouine adds her gentle, vintage aesthetic to the Spacebomb roster.
Photos by Polly Antonia Barrowman
Music
Features
Bedouine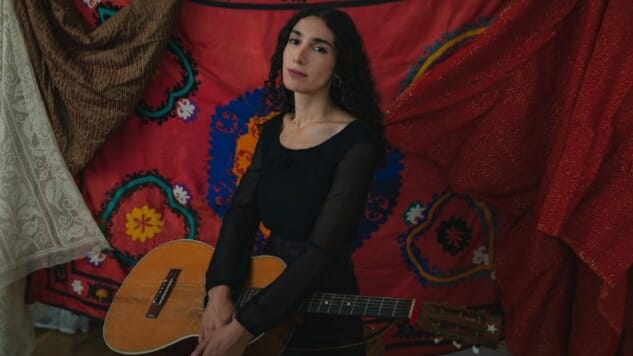 Azniv Korkejian had three CDs growing up in Saudi Arabia, by Michael Jackson, Mariah Carey and Boyz II Men. There was also an audiobook about ponies. Her self-titled debut as Bedouine doesn't sound much like any of them. "You don't hear it?" Korkejian jokes.
Nope. Bedouine sounds like a hot summer afternoon, where nothing moves in the drowsy stillness but the beads of condensation sliding down a tall glass of something iced. Korkejian's voice is a confiding murmur, and she sings in languorous tones accompanied by simple guitar or piano arrangements augmented by elegant strings and muted horns. It's an uncommonly subtle collection, with a classic sensibility that evokes singer-songwriters of the 1960s and '70s.
At the start, though, her main goal was to hone her skill as a writer. "We didn't really have a clear objective," she says, referring to herself and producer Gus Seyffert. "I wasn't really sure what I was doing, I was just writing and wanted to get some of these ideas down so I could continue to write."
She figures she had 30 songs before she and Seyffert narrowed it down to the 10 on Bedouine. The winnowing happened when she began talking to Spacebomb, the Richmond, Va., record label, production team and recording studio founded by singer and songwriter Matthew E. White in 2011. The Spacebomb catalog includes two of White's albums, as well as a pair of LPs by Natalie Prass, which caught Korkejian's attention. Impressed, she sought out White when he played a show in Los Angeles, where Korkejian lives.
"I asked him if I could email him a couple songs, and he hesitantly agreed," she says. "It was a total cold call, it was totally unsolicited. I was contemplating, 'Do I, don't I, do I, don't I,' and I did." She pauses a beat before adding, "Spoiler."
Korkejian didn't expect a reply, so she was pleasantly surprised when White wrote her back to say he loved what he heard.
"I generally listen to everything, for a minute at least, to get through the first chorus on anything I'm sent," White says. "And I remember the next day in the [tour] van putting that on and checking it out, and I kind of stopped it and said to my buddy Alan, who plays guitar, 'This is really, really great. Am I right, or am I just losing it on tour?'"
"It's rare that someone gets behind something gentle and traditionally beautiful," she says.
A year of back-and-forth resulted in Korkejian, 32, signing to Spacebomb and finishing the songs in Richmond with parts scored by label co-owner and in-house arranger Trey Pollard, and performed by the Spacebomb house band. "Retrofitting things like that can at times be ungraceful, but this worked out really nice," White says. "We just ended up with something really, really cool."
Like so much in Korkejian's life, the pieces all fell into place. Born in Aleppo, Syria, her family moved to Saudi Arabia when she was little, before winning a green-card lottery that brought them to Boston, and then Houston. "Then I split as soon as I could," she says, for stints in Lexington, Ky. on a horse farm; Ann Arbor, Mich.; Austin, Texas; and Savannah, Ga., where she attended the Savannah College of Art and Design. "I was basically following my friends around, like 'I don't know what I'm doing, I'll do what you're doing,'" she says. "I went to Savannah on a total whim. My friend's little brother was going down for orientation, and I said, 'I'll go with you.'"
While there, she met with the chair of the sound design department, and ended up attending the prestigious school on a full scholarship. After graduating, she moved to Los Angeles, where she does music editing for film and television when she's not busy writing songs.
All her moving around has informed her music, too, down to the name Bedouine, adapted from the nomadic tribes native to the Arabian peninsula (she added the "e" after learning of another musical project going as Bedouin). Living in new places and meeting new people has shaped the way she writes songs.
"Coming across different people will often mean you're coming across different approaches, different lifestyles, different schools of thoughts, verbiage," she says. "It allows you to look at the same thing from different angles and inspires curiosity."
Korkejian often approaches songwriting as an intellectual exercise. "A lot of my songs, oddly enough, start as challenges for myself," she says.
After doing a lot of fingerpicking on guitar, for example, she made sure she strummed her part on "Dusty Eyes," the first single and a centerpiece of the album that also includes an electric guitar solo that practically takes flight. She wrote the slightly jauntier "One of These Days" after listening on repeat to the JJ Cale album she found in a friend's truck she was borrowing. "Solitary Daughter," the second single, is austere, with quiet guitar and thorny vocals that she speaks as much as sings. "I wrote that song thinking, 'I want to see how long I can stay on one chord,' so it starts on A and stays there for a little while," Korkejian says. "I kind of had to fight my instincts to move it."
Sometimes she confronts a different sort of challenge: writing topically without being heavy-handed about it. The massive and ongoing destruction in her native Syria, especially in Aleppo, has seeped into Korkejian's work, she says. Writing "Summer Cold," a foreboding tune with stabs of noir-ish guitar, was "a reaction to reading repeatedly that weapons that America was providing to the Middle East were getting into the hands of terrorists."
Still, she's oblique about it. "There's a feeling of wanting the song to live outside those circumstances," she says. "You want them to be dated, but not feel dated."
It's just the opposite that helps make Bedouine such a captivating debut: Korkejian's collaboration with Spacebomb gives her latter-day songs a vintage aesthetic that sounds timeless.
"It's rare that someone gets behind something gentle and traditionally beautiful," she says. "I hate to be such a curmudgeon but so much of what I hear these days is so abrasive. Not that I want to be entirely derivative but I appreciate the softer melodies and sounds of the past."