Beastie Boys Say They Were Unaware of Eminem's Kamikaze Album Art Homage
Ad-Rock and Mike D addressed the Eminem nod in a radio interview
Photo by Roger Kisby/Getty
Music
News
Beastie Boys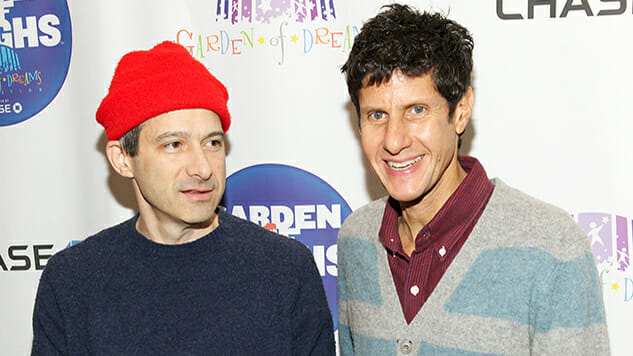 Ad-Rock and Mike D of the Beastie Boys recently appeared on The Strombo Show to discuss their formation and history. Amidst talk of the 1980s New York music scene and stories of tour life, the rap-rock pioneers talked about Eminem's Kamikaze cover art. They say they found out about the album art, which is an homage to their 1986 classic License to Ill, at the same time as everyone else: when it was surprise-released on streaming services.
"All of a sudden I get 10 like text messages, 20 text messages," Mike D says. "Then I'm like, 'Why do I all of a sudden have 50 text messages? I better see what's going on.'"
The pair elaborate, saying that they had never met Eminem, or at least not in any significant way. "I met him once in a bathroom in Rome," Ad-Rock says. They agree that he was nice, and go on to talk about the diss tracks on Kamikaze and Eminem's ongoing feud with Machine Gun Kelly.
Watch the entire interview below—the Eminem portion starts at 43:42—and hear a 1999 Eminem performance from the Paste archives further down.