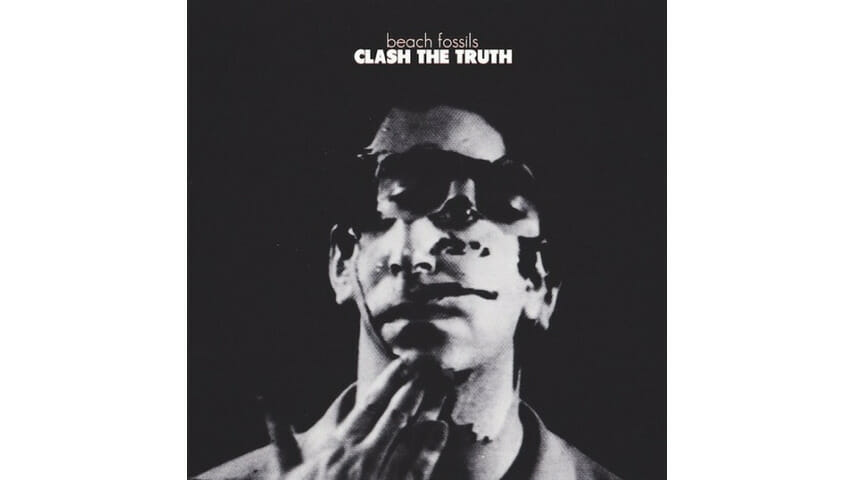 In the time since the release of Beach Fossils' 2010 self-titled debut LP, Dustin Payseur saw his solo project evolve into a live band of increasing fanfare, translating reflective material into something fit for dancing, sweating, and losing oneself in the moment. It was a step away from the somewhat constrictive framework of the Captured Tracks sound, and it has since seen associated artists following suit. Friend and collaborator Jack Tatum expanded his Wild Nothing project to a full band in a similar manner, while former Beach Fossil Cole Smith gained instant acclaim for his looser and louder band DIIV after it served as Beach Fossils' tour support. Somehow, Beach Fossils risked being left behind, facing an uphill fight to distinguish itself from similar projects, with Payseur's focus centered on capturing their live show energy on tape with sophomore album Clash the Truth.
The success of Clash the Truth is easy to spot from its opening title-track, which sits comfortably between New Order's post-punk and, well, New Order's new wave, building with a rising chant that kicks the doors of possibility open for the band, a feat in a dream pop genre where possibilities are a precious commodity. And though the album never quite knows what to do with this increased freedom, the overarching thesis of redefining the project by capturing its live spirit is supported thoroughly. "Careless" canters to a tight rhythm, never letting the subtly adroit bass and percussion take the spotlight from its flashy guitar leads, which break free in any space that has room and recoils to the melody's inevitable returns, with all aspects of the number finally equating in both purpose and impact. Later, "Shallow" offers a variation on the pronounced guitar fills, this time to be upstaged by Payseur's all-hook melody and the unbridled drum fills of Tommy Gardner.
Even without the knowledge that Gardner is now the number two of Beach Fossils, going as far as to co-write tracks for the album, Payseur's talent for crafting vocal and guitar hooks are generally placed in a parallel space with the rhythm section, all packed in the middle of the mix, with none getting much help from the grayscale production. Still, though the drums need to be sought out to be appreciated, they combine with Payseur's refined bass-work to hold songs in armored stability. Whether it's the trot of "Burn You Down" or the snare-rattling gallop of "Generational Synthetic," the momentum of the songs is being driven by a jockey who cares for his horses and speaks their language, knowing how to make each perform to their potential.
Even the surprising intimate turn on Real Estate-ish lullaby "Sleep Apnea" works in the vision, making Payseur's patience in taking three years to properly follow his debut seem less like the mistake it could have easily been, with DIIV and Wild Nothing already satiating potential audiences' appetites for similarly colored sounds. Still, as strong and admirable the project of Clash the Truth might be, anyone who has seen Beach Fossils live will feel like the trailer gave away too much of the film. In trying to match his progress as a performer, Payseur offers little besides the opening track that looks forward. Clash the Truth suffers because of this, playing as an introduction for a band that is to come, a band that will have sonics to match their musical ambitions, that could break free of their hazy daydreams to which they remain shackled. Sure, there might still be alleys of nostalgic indie pop yet to be explored, but Beach Fossils could be better served by traveling forward with the same pace and focus of their songs, rather than working within self-imposed limitations.