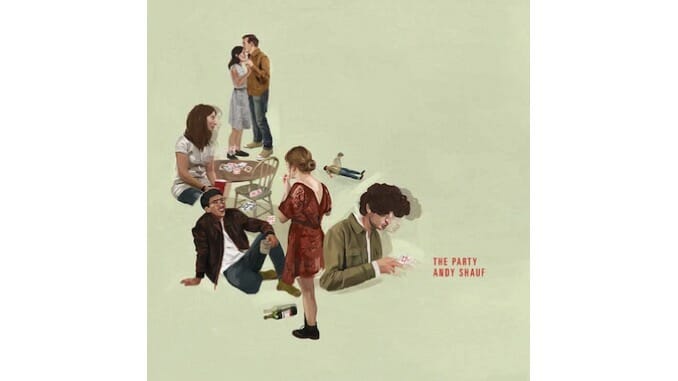 When it comes to songwriting, Canadian songwriter Andy Shauf is like a party host intent on finding the intricate stories behind the characters who stumble into his songs and soundtracking them in grand fashion. In some ways, he looks beyond the fun and games to discover complex characters with three dimensional thoughts and feelings rather than focusing on what's on the surface.
The first time I heard about Shauf, one of the most prominent descriptors was how much his delivery at times sounded like Elliott Smith (for example, on the track "Begin Again"). While he doesn't exactly sound like a pure duplicate of Smith, I can definitely see where that comparison comes from. It's fitting, since Smith's music has had a clear and significant impact on Shauf's development as a songwriter. Besides having a similarly emotive voice, Shauf is a multi-instrumentalist and self-producing artist who creates meticulously crafted lush, ornate and sometimes orchestral arrangements.
The Party is the ANTI-Records debut for Shauf, who grew up in small-town Saskatchewan. Through 38 minutes of The Party, Shauf paints a revealing picture of this unique party gathering full of characters dealing with their life issues.
Album opener "The Magician" starts out with a plunking of piano keys before erupting into a smooth melody full of fuzzed-out guitars, string sections, clarinets and more. Other songs feature similar elements as well as synthesizers, acoustic guitars and drums. Some characters depicted are over-eager party goers ("Early to the Party") with poor social skills. Others seek to reveal life-altering secrets ("To You").
On "The Magician," the subject in the narrative attempts to thrill his audience with magic but ultimately shows them nothing at all. Other times, the party guests speculate about someone they know who died smoking what he claimed was his last pack of cigarettes ("Alexander All Alone") or stare judgmentally at a fellow attendee who dances by herself in the middle of the room ("Eyes of Them All"). Sometimes, characters mistake others for exes ("Martha Sways").
The Party plays out like Shauf is telling someone these the stories hours after or the next morning following the blowout. While the arrangements are lush, they don't get too overbearing or massive to take away from the lyrics. Fans of artists like Elliott Smith and Grizzly Bear will likely enjoy Shauf's music, but overall Shauf really comes into his own on The Party.