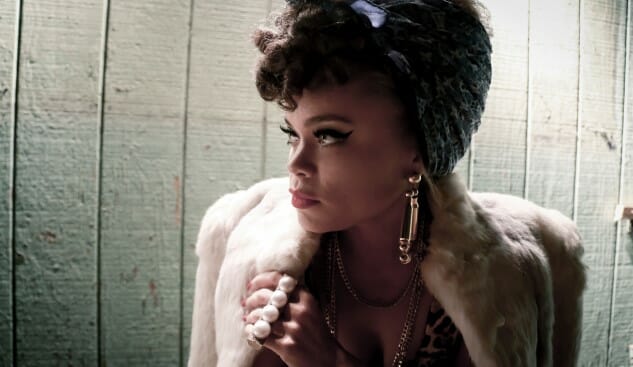 Andra Day strives to be fearless.
"I feel like fear is a very real thing, a very ubiquitous thing, and it can be very subtle," Day says. "The album Cheers to the Fall is really kind of me breaking out and being like listen, I don't care about criticism, and I don't care about possibility of failure. I'm going to do it. And if I do fail, well then here's to it."
Day is far from failing. She may not be a household name yet, but you've heard her voice. Her song "Rise Up" soundtracks a day in the life of tennis superstar Serena Williams in the widely viewed Beats commercial released this summer and she sings with Stevie Wonder in a Christmas spot for Apple. She recently received two Grammy nominations, one for Best R&B Album and one for Best R&B Performance. Spike Lee directed her "Forever Mine" video after seeing her perform at Sundance Film Festival. She's set to tour with Leon Bridges this spring. And she still gets attention for her 2012 YouTube series of covers and mashups, where she paired Notorious B.I.G. with Marvin Gaye and put her twist on songs by Eminem, Muse and more.
"It was just kind of like how can you make these songs that are different than what I do but make them what I do," Day says of the YouTube videos, which helped land her a deal with Warner Bros. Records. Of course, for Day, figuring out "what I do" took some time and reflection.
Day was raised on church music and soul, and attended the San Diego School of Creative and Performing Arts. She studied jazz vocal performance, classical music and musical theater as well as dancing. "When I graduated everyone was like you got to do pop and R&B to make it, like very contemporary pop and R&B," says the 31-year-old artist. "I tried for a little while but I just realized my voice wasn't quite fitting some of the records that I was doing. So that's when I started to incorporate more jazz back into what I do and the soul music that my father had me listen to when I was young. And that's when it really clicked for me. That's exactly where I wanted to be."
Which gets us to what Day does do—she brings her contemporary R&B and pop sensibilities to a palette of jazz, blues, and, at the core of everything, soul.
"Soul music is true to its name," she says. "It's music that connects to your soul, your spirit. When music resonates with people's spirit like that, when people can emotionally connect with something or it helps to heal them, transform them, that never goes out of style. People will always need something to relate to. They will always need encouragement. They will always need truth."
Day hopes her music also inspires, encourages and heals. But she knew she needed to take some time off to work on her relationship with God before she could make the album she really wanted to make.
Day's career started looking up five or six years ago when Kai Millard Morris, who was married to Stevie Wonder at the time, saw a performance and shared it with Wonder. The couple reached out to Day and discussed working together. It didn't work out at the time because Day was working with someone who, in her words, "sabotaged everything." About a year later, when Wonder introduced her to producer Adrian Gurvitz, Day says she was where she needed to be, professionally and spiritually.
"I needed time to grow and develop as a person in that year before I actually started working with him," Day says. "I had not been making great decisions and was concerned about the trajectory of things. For me everything is a spiritual thing so I just took that time to work on my relationship with God and just me as a person."
After meeting Gurvitz, Day prayed for a sign that she should jump back into music.
"I got a text message from Adrian the next day. It was that simple," she says. "Everything since I met Adrian and got back into the studio, it's been incredible."
Day and Gurvitz completed the bulk of her debut album Cheers to the Fall by 2012. After releasing the YouTube videos that garnered the attention of record labels, Day signed with Warner Bros. and has spent the last three years crafting and adding details to the album. During that time she and Gurvitz brought on Raphael Saadiq and ?uestlove. The album also features James Poyser, DJ Jazzy Jeff, the Dap-Kings and a couple of new songs. It sounds like a project with years of work behind it.
"The album is really about truth and about fearlessness," Day says. "When I was younger, I was selfish. Everything was about me. You grow up. You go through things and experience things. I just got to a point where I got deeper in my relationship with God, and I was like okay, whatever God wants me to talk about or sing about or write about or how he wants me to live or who he wants me to meet and interact with, then that's what I'm going to do."
Day says she felt compelled to share her personal stories, stories that have taught her hard lessons—stories that others might be afraid to share.
On "Gold," she sings, "I gave up gold/ For grains of sand / Slipping through my hand," with regret for betraying a longtime relationship. It's a story that's at the center of the album and one that inspired the theme of truth and fearlessness.
"I was in a relationship for a very long time and I was dishonest with this person and cheated on this person," Day says. "I was careless and reckless with my actions. I was just terrified of him finding out anything, terrified of people finding out anything and dealing with the criticism, dealing with the end of the relationship, the heartbreak, the guilt. I said listen, I've done this and I need to be responsible with his emotions. I can't worry about the criticism or the backlash. It's going to happen. People will have their opinions. They'll call you all kinds of names, but I have to be free so I have to tell the truth. It's okay if I'm criticized. Tell the truth and ask for forgiveness."
Day keeps that fearlessness in her songwriting and storytelling by telling the truth, but it's really her voice that allows the words and music to resonate.
"I'm attracted to big unique voices so of course I love the Arethas and Patti LaBelles, but also one of my major influences is Billie Holiday because she just has such a unique voice. It was very emotional and very real and very raw," Day says.
The way Day uses her own big voice and her honest delivery dip her songs in a deep inkwell of emotion. You can hear the aching pain behind her words in "Red Flags" when she sings, "Salty tears burned my face last night" just as much as you hear the hope in her high notes on "Rise Up." The texture of Day's voice, which is similar to Amy Winehouse, fits perfectly with her jazz phrasings and retro stylings. Her powerful alto reverberates throughout the album, calling to mind Adele.
And Day doesn't fear those comparisons.
"You don't have to try so hard to stand out, you just have to be you. We were all wired with unique DNA that comes with unique character and unique qualities and unique tastes," she says. "If you just dive deep into who you truly are, then you'll stand out."