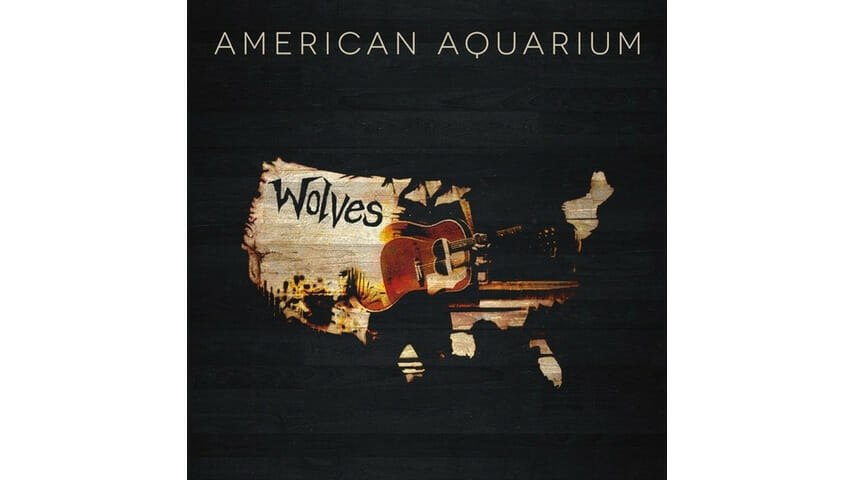 At one end of American Aquarium's music is the beckoning call of the road, the neon excitement of nightclubs and bars, the urgency of rock 'n' roll, a life unbound and free.
At the other end is home, an inescapable identity forged by bloodlines and place, those unwavering roots set deep and sturdy.
In between lies a world of messy conflicts, of competing urges and visions for the future, of desires flickering like mirages at the far end of some unpassable road—all of which BJ Barham wields in a songwriting style that marries tradition with his own candid self-reflection.
On Wolves, American Aquarium's follow-up to 2012's breakthrough Burn. Flicker. Die., Barham offers 10 songs of the chaotic battle within, unvarnished truths about sacrifice, addiction, aging, big dreams and the ever-present fear of failure.
"This town has a way of suckin' you in," sings Barham in the first line of the opening song "Family Problems." And, unsurprisingly, nothing could be more antithetical to the sort of hard-touring rock band that American Aquarium has been for the past nine years.
Most of those nine years, however, saw Barham surrounded by a rotating cast of musicians to round out the sound. Now, the sound of American Aquarium is fuller all-around, the result of a now-steady band of Barham, guitarists Ryan Johnson and Colin Dimeo, bassist Bill Corbin, drummer Kevin McClain and Whit Wright on keyboard and pedal-steel guitar.
So while American Aquarium is still firmly in the rootsy, alt-country world, the songs on Wolves have grown more creative, the electric guitars and organ reaching into unexpected areas. The producers who helmed Wolves and Burn. Flicker. Die. explain a good bit about the differences between the two records: the Jason Isbell-produced Burn. Flicker. Die. is raw, gritty and intense, while Brad Cook of Megafaun guided Wolves into different territories, a more expansive and tougher-to-pin-down sound.
After "Family Problems," the Raleigh, N.C.-based band kicks into "Southern Sadness," a song that gives equal credence to the elements that drive a man away from home and the elements that make it impossible to ever fully leave, no matter how many attempts result in burned bridges and broken hearts.
The album's standout track is "Losing Side of Twenty-Five," a song about how friends' priorities begin diverging as the mid-20s hit. There's definitely a twinge of regret in Barham's description of his friends moving on, "changing pretty girls' last names" and becoming fathers, while he's left his parents with nothing to boast about. But the final verse is Barham's assertion that stubborn resiliency, though different than most, is its own path to happiness.
On "Wolves," Barham sings "I knew I'd be a drifter since the day I turned 16," but the song isn't about the drifting so much as the evil and meanness that's too often encountered out in the world. Those wolves—whether they're wicked outsiders or the ugliness that can develop inside—only know one thing: to feed when they're hungry.
While distinctly Southern, Barham's songwriting nevertheless resonates with the struggles of small towns everywhere. His themes—especially on Wolves—aren't the sort of questions that get settled quickly or easily, but they're relatable, especially in Barham's frank and shrewd style.
Wolves is an album that still finds Barham and American Aquarium doing a lot of staring out at the horizon, sometimes near and sometimes far. But on this record, it's a different horizon, one that's richer and perhaps just a bit closer to the promised land.