Daytrotter Session - Mar 25, 2013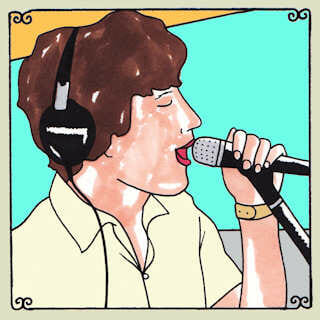 Welcome to Daytrotter
Undercover
James
Bend Or Break
There's something quite entrancing about love when it's so frivolous, when it doesn't know its head from its ass. These are usually the young loves that are so illogical, they couldn't get any more fascinating. They happen during the days when we're completely awkward and desperate and we can't smell any of it, or sell much of it.
The other day, there was a big feature about Justin Timberlake in the Thursday Styles section of the New York Times, about the smooth transition he's made into being a sharp-dressed man. It was a long-winded piece detailing some of those youthful fashion missteps – the one-color sweatsuits and the frosted, curly tips of hair – and how he matured through them. Now, of course, as those days were happening, JT was still an attractive man. He was learning what worked for him, but there's no denying that if you come at it from an objective angle anyone could say that he's had plenty of moments of looking foolish, even while feeling good about the appearance.
We're all like that, going through these things, and yet most of us don't get to that point in life where Tom Ford's tailoring expensive clothing for us, to make things so much easier. Those times though shouldn't be thrown out with the bath water, dismissed as silly periods just because we weren't set in our ways, just because we didn't have the kind of mental and emotional poise to arrive at full formation sooner. The things we learn about ourselves, when little of it matters or will stick as permanence, is precious and often electric. We learn the valuable lesson that sometimes things are just up for grabs and don't make much sense.
The songs that Poway, California, band Allstar Weekend write are a bit like this – where love is almost surely not going to stick, but it feels colossal. The connections and attractions felt are intense and striking. They leave you with that sense that it's all or nothing, that this could be it, when it couldn't be any further from the truth. These are the loves and the days spent with people who will likely wean themselves out of your life soon enough. It doesn't feel like it right now, but just give it a little time. Even so, they are the loves and people who you will still think about when you're an old man. It's funny how things work.
W3 Total Cache is currently running in Pro version Development mode.