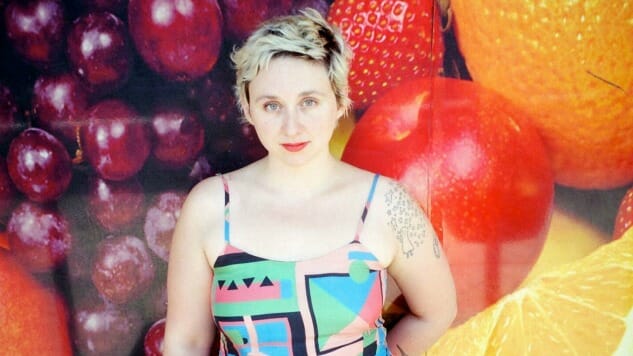 Breakups are never easy. But what if you had to separate from a partner of five years with whom you'd founded a touring band? Singer-songwriter Allison Crutchfield became intimately familiar with this scenario when she split with longtime boyfriend and erstwhile bandmate, Kyle Gilbride, in 2015. The couple shared everything: a home, two cities (they moved from New York to Philadelphia over the course of their relationship), friendships and a band: the now-defunct D.I.Y. punk outfit Swearin'. The experience, though, ultimately pushed Crutchfield to launch a solo career; she'll release her debut, Tourist in This Town on January 27 via Merge Records.
When we sit down for tea at Roebling Tea Room in Brooklyn, I'm initially not sure to what extent Crutchfield, who recently turned 28 and got her start performing with twin sister Katie in Bad Banana and p.s. eliot, will want to talk about the album's personal themes. But she has few qualms about opening up. "I'm such an open book, I can't not just talk about my life in a very matter-of-fact way," she shrugs. "It's such a cliché, but this is a breakup record. There's just no getting around it."
Immediately after their separation, Crutchfield moved her belongings out of her and Gilbride's shared home and crashed with Katie, who performs as indie-folk project Waxahatchee and also lives in Philadelphia. At first, she and her ex tried to keep the band together, even opting to play a few shows that summer. The plan quickly imploded. "I think I wanted it to be more of a thing where we… not where we talked all the time, but I wanted to process [the break up] with him a little bit," says Crutchfield. "He didn't really want that. He did initially, but then when that tour just went so sour he was like, 'I need space.'" Which makes sense. It was ultimately for the best."
After Swearin' disbanded, Crutchfield left Philly to join her sister on tour, where she was busy promoting Waxahatchee' latest record, Ivy Tripp. On the road, where she'd provide backup vocals and guitar, she wrote a number of solo tracks that would end up on Tourist in This Town. It doesn't take much to discern where Crutchfield's head was — lyrically, her songs overflow with feelings of displacement and diaspora, restlessness, relief, anger and confusion. "We're pretty far from Philadelphia," she sings on the soul-bearing "I Don't Ever Want to Leave California," before admitting that "that's fine because I'm really starting to hate you… I keep confusing love and nostalgia." On "Sightseeing," she moans, "I can't enjoy Paris 'cause I can't get away from you."
Coming back to Philly wasn't any easier. Describing her LP's title, Crutchfield explains that upon her return, her surroundings felt different, and not in a good way. She literally felt like a visitor in her own city. "It made me feel really stressed out," she says. "I didn't really know how to navigate my social life when I was home. [The title's] also about being on tour and being in this different place every day. And about being around a person I dated for a really long time who felt like a fucking ghost or a stranger.
"I had these conflicting feelings, like, 'I don't wanna fucking be home because home is associated with this relationship' that I was in," she continues. "It was such a huge part of who I was for so long. I moved to Philly with them, so everything about Philly represented this other person. Then, at the same time, it was the birthplace of this new [relationship] that felt really really good, and I was kind of struggling to navigate that. I felt like, 'I really shouldn't be dating anybody right now,' but I also feel like this [new] relationship feels big and important. It was a lot of back and forth in my brain."
Eventually, Crutchfield found her footing and can honestly say that she feels much more at home in the City of Brotherly Love. Part of that change does have to do with recording Tourist in This Town and feeling out her new role as band decision-maker. She also began dating someone new, Sam Cook-Parrott of indie-pop act Radiator Hospital. "It feels nice to be in a place where I'm not like, 'I have to fucking move, I have to move away from everything,'" she says. "I think that's where I was at for a long time."
Crutchfield also began working with local producer Jeff Zeigler (Kurt Vile, Steve Gunn), who joined her to record Tourist in This Town at Uniform Recording in Philly. It was a major change from working with Gilbride, who, in addition to recording all of the Swearin' records, has built a solid reputation as Philly's go-to D.I.Y. producer, having helmed Waxahatchee's Ivy Tripp and Girlpool's Before the World Was Big, among others. "It was a little nerve-wracking, I think, because everything up until that point, or at least for the last few years, had been with Kyle, and that felt really safe," she says. "So to put a lot of stock in this person that I didn't know, who in a lot of ways is more of a professional engineer and producer – not that Kyle's not — but Kyle's operation is a lot smaller."
In working with Zeigler, Crutchfield got a chance to further develop her aesthetic, which, up until then, had predominantly featured crunchy lo-fi guitar-work (and that includes the seven tracks on her self-recorded 2014 EP, Lean Into It. In addition spotlighting her soulful vocals, Tourist in This Town tinkers with a range of gentle folk, hooky synth and ocean-sprayed '60s pop. "He's totally down to try new things, just trial and error, which is great," she says of Zeigler. "And he has the means to do it. He has so much gear. All of the synths that we put on the record are his personal synths that are in his studio. That was kind of an amazing blessing, too, to have this person who is so knowledgeable with synthesizers and has this really beautiful collection and knows exactly how to use them and all of their quirks."
Crutchfield's solo venture also gives her the opportunity to do something else she'd never tried before: to direct her own band. It's a relief, she says, after trying to get everyone in Swearin' to cooperate in unison. "We were just never on the same page," she says. "I had to hold back, feeling like I couldn't get as much out of the other members as I wanted to. We just had a hard time settling on anything, and at the same time really emphasized the importance of being democratic and everybody getting a say. Which is hard when you're four different people and want four different things. So I think when I did this it was just like, [sighs]. I can pick my fucking record art. And I can make a music video that I don't have to worry about these three people being unexcited about. Or I can do an interview and I can just talk the whole time and not have worry. Not that I necessarily wanted to talk all the time in Swearin' interviews — it could just be a little tricky."
She's clearly thrilled to be performing with a new group, which features Cook-Parrott on guitar, Katherine Ellison on drums (Impact) and bassist Bean Tupou (Try the Pie). But, at the same time, she's understandably a little antsy about touring with a romantic interest the way she and Gilbride used to. She shrugs it off. "I think there's just a weird level of guilt where you think it's weird that you're doing something you did with that old person with this new person," she says. "Like if this goes wrong, I'm going to feel really stupid. But that's just not going to happen. It's just a different relationship."