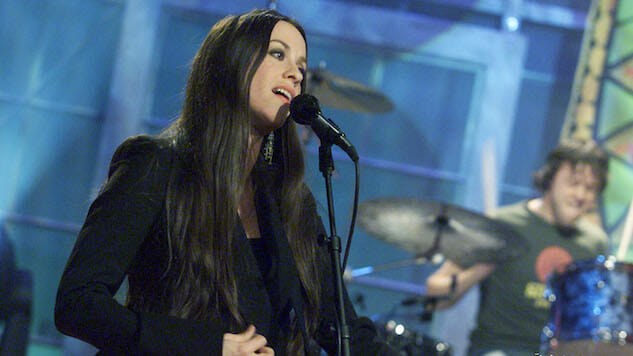 On this lucky day (June 13) in 1995, Canadian singer-turned-superstar Alanis Morissette released her international debut, the iconic and searing Jagged Little Pill. The album remains one of the best-selling records of all time at more than 33 million copies sold and a testament to the power of female rage. Patching together sounds influenced by '90s grunge and alt-rock and plenty of fuzzed-out guitars, Morissette made a landmark pop album that became a classic.
This audio from August 1995, taped during a show at New York City's Tramps just a few months after the album's release, shows Morissette at her most energetic, delivering each "And I'm here to remind you" with her characteristic guttural screech. After a Jezebel writer defamed Morissette and Jagged Little Pill, calling it "actually very bad," in an op-ed earlier this year, the internet rushed to her defense. It seems Jagged Little Pill, in all its perfect rage and cathartic heat, can outlast any opposition, especially one as half-baked as that op-ed.
Below, hear hits "You Oughta Know" and "Hand in My Pocket," followed by the entire concert from 1995 via the Paste vault. While you're here, watch Morissette's entire set from Woodstock 1999, further down.