Exclusive: Listen to a 25-Year-Old Aimee Mann Lead 'Til Tuesday on "Voices Carry"
Eight years before her solo debut, Mann was ready to take the spotlight.
Music
Features
Aimee Mann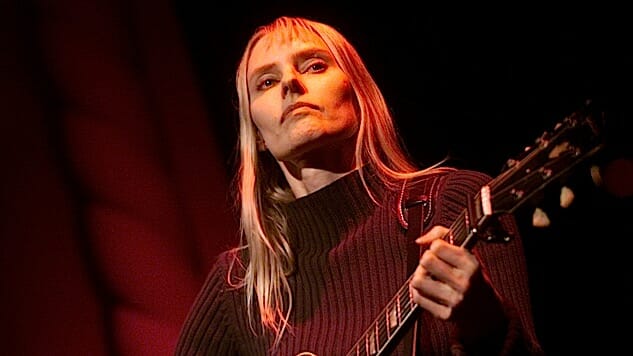 Did you know that Paste owns the world's largest collection of live music recordings? It's true! And what's even crazier, it's all free—hundreds of thousands of exclusive songs, concerts and videos that you can listen to and watch right here at Paste.com, from Louis Armstrong to The Who to U2 to Wilco. Every day, we'll dig through the archive to find the coolest recording we have from that date in history. Search and enjoy!
After 24 years of solo success stretching from 1993's Whatever to this year's Mental Illness, it's harder and harder to imagine Aimee Mann as the up-and-coming singer in Boston-based new-wave group 'Til Tuesday. But today in the Paste Vault, we can look back and get a pretty clear sense of it. On Sept. 11, 1985, a 25-year-old Mann was just starting with 'Til Tuesday, who would score a Top 10 hit with their first single, "Voices Carry."
The group—which comprised guitarist Robert Holmes, keyboardist Joey Pesce, and drummer Michael Hausman (Mann's then-boyfriend and future manager)—came to fame after winning a Boston radio contest. Not long after, they appeared on little-known radio program David Brenner Live, a short-lived show hosted by the comedian that took over the slot Larry King vacated when he moved to television.
In hindsight, it's easy to see how this interview with Brenner foreshadows Mann's solo success: Nearly 10 years before her debut solo album, Whatever, she differentiates herself by leading the interview. She speaks in detail about the acting required of her for the production of the "Voices Carry" video. Looking back now, the video itself is a fossilization of the '80s at its worst, with Mann lip-syncing poorly while sporting overly gelled hair that cascades into a braided, platinum blonde rattail. The song remains an '80s classic, but the video ages so poorly, in fact, that Mann would later enlist Sean Penn (Mann is married to his brother, singer/songwriter Michael Penn) to create a parody for the release of her 2012 album, Charmer. Of course, the "Voices Carry" video is now a mere footnote on Mann's impressive list of screen appearances. She would go on to make a cameo in the 1998 cult film The Big Lebowski, appear with her band on Buffy the Vampire Slayer, and was more recently featured in an episode of IFC's Portlandia.
Knowing what we know now about Mann's impact on contemporary music and media, this 1985 radio appearance, which included both songs and interviews, is a telling look at one of the great singer-songwriters of our generation when she was just emerging. Listen to Mann speak about her experience making the "Voices Carry" video, then check out 'Til Tuesday playing the track on Brenner's show, below.