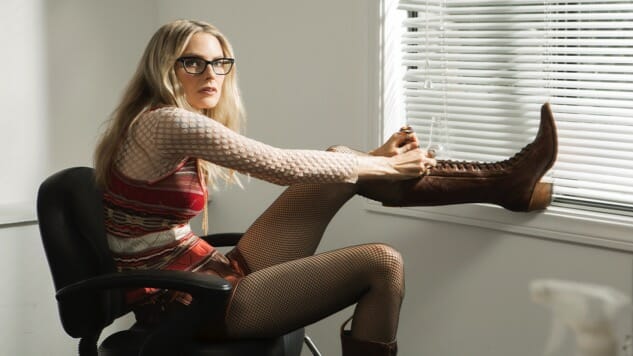 Here's an underappreciated fact about Aimee Mann: she excels at comedic straight roles.
There was her deadpan turn as a maid on Portlandia, for example, or her video for "Labrador," where she plays a reluctant version of herself in re-creating the clip for "Voices Carry" by her '80s band 'Til Tuesday. A similar, if darker, current of humor cuts through her music, too, despite Mann's reputation for writing gloomy songs about troubled characters. "I'm sure I'm the only person who thinks any lines or any moments are funny, but that's usually because they're the most accurate and bleak ones," she tells Paste.
Her reputation is fairly earned, though: she's been writing downhearted songs for more than 30 years, from 'Til Tuesday through a solo catalog that includes the telltale names Whatever, I'm With Stupid, One More Drifter in the Snow and @#%&*! Smilers. Her latest album is Mental Illness, an emblematic title. "Yeah, cuts to the chase," Mann says.
The name started as a joke, and soon became inevitable. When she told a friend she was working on a new album, her pal asked what it was about. "I said, 'You know, my usual: songs about mental illness,'" Mann says. "So as a jab, they said, 'You should call it that.' And then once that was highlighted, I was like, obviously I have to call it Mental Illness."
It's a collection of 11 new songs that are at once quiet and lush. Mann has done that before, on tunes like "I've Had It" from 1993's Whatever, or her Oscar-nominated song "Save Me" from the 1999 film Magnolia—songs that are subdued and spacious, yet intimate enough that you find yourself holding your breath so as not to miss a note. Mental Illness marks the first time she's carried that sensibility through an entire album, picking out an acoustic guitar line over chiming sleigh bells on opener "Goose Snow Cone," letting strings envelop the rueful disbelief in her voice on "You Never Loved Me" and anchoring closer "Poor Judge" with a rich, mournful piano part.
Going quiet was a reflection of the mood she was in after putting out two albums in quick succession and extensive touring, and also what she had been listening to. While on the road in 2014-15 with The Both, her project with singer and guitarist Ted Leo, they spent a lot of their time in the van listening to the '70s soft-rock act Bread. "I was just really struck by how great the records were," Mann says. "I really love it. And I think back in the day I thought it was really cheesy, but listening today objectively, the musicianship is incredible, it's really well done. There's something that's kind of like, embrace the sad, embrace the soft side."
So she did. Mann was ready to start work on the follow-up to The Both's self-titled 2014 album. When Leo demurred to work on a long-delayed solo album, she started a solo project of her own, and steered it in a sad, soft direction.
"She's always had that side to what she does," says Leo, who contributed backing vocals to Mental Illness. Leo had an inkling while on tour with Mann that the Bread influence might seep into her next project. "Probably because I just assumed that's always been an influence on her," he says with a laugh. "But I think we did have some explicit discussions where she expressed her desire to write some more simple acoustic stuff like that."
In addition to Leo, Mann worked with drummer Jay Bellerose, keyboardist/guitarist Jamie Edwards and her longtime bassist Paul Bryan, who arranged and conducted the strings and has produced all her albums since One More Drifter in 2006. She also brought in a couple of new collaborators, co-writing songs with John Roderick of the Long Winters and Jonathan Coulton, who contributed backing vocals and acoustic guitar. Though Mann shares songwriting credits with the likes of Elvis Costello and Jon Brion, along with Leo for The Both, co-writing wasn't always something she was eager to do.
"I really enjoy it now," she says. "When you're younger, there's a real feeling of, 'I have to prove myself. This has to come only from me.' And to me now, it's more about, it's important to put good things out into the world, and it's OK if I'm a contributor rather than the sole provider of it."
Mann met Roderick at one of his gigs, and he introduced her to Coulton. They're also connected through comedy circles—they're all friends with John Hodgman—and Mann and Leo have appeared with Coulton on the NPR show Ask Me Another, and have performed on his JoCo Cruise. Though Coulton is probably best known for his humorous songs, including an acoustic cover of "Baby Got Back," Mann describes him as a "devotee" of '70s soft rock. "So when I was thinking that I was going to make the saddest, softest record, I was like, obviously Jonathan Coulton is somebody you would enlist to sing on it," she says.
Coulton co-wrote three songs on Mental Illness, including a radical restructuring of the second single, "Patient Zero." "Her songs have always spoken to me, so I guess I was hoping and expecting we would be on the same page," Coulton says. "It was really thrilling to work with her, and also a little bit daunting."
As she often does, Mann based the songs on people she knew, or situations she or her friends had encountered, and followed where the stories led her. "Once the songwriting process gets underway, it does become fictionalized," she says. "The details of real life don't necessarily translate, and sometimes the music pushes it in its own direction."
It helps that Mann also has an elliptical way of making her point. "She has a great gift for writing around a thing that she wants to say," says Coulton, who is releasing his new album Solid State on Mann's SuperEgo label. "That's my favorite songwriting trick, is to say a thing without saying it directly, to let something be revealed by what you're saying rather than saying it out loud. That's the kind of songwriting that has always delighted me, and the thing that I always aspire to do."