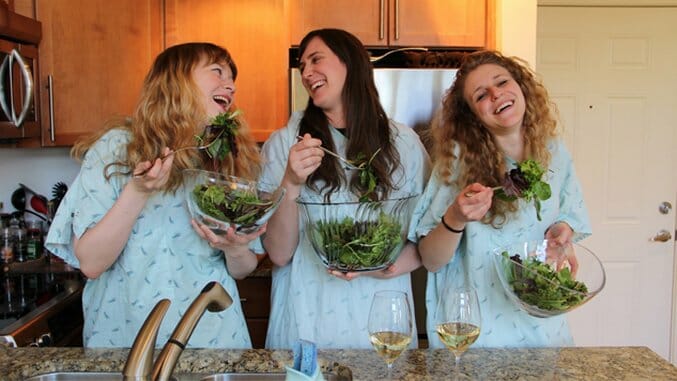 Riot grrrl is the female-driven punk movement that arose during the early-1990s in Washington State in response to pervasive sexism, racism, classism, and homophobia in punk music and greater society. Though Riot grrrl is often referred to in the past tense, those identifying as female from Portland Ore. to Vancouver, B.C., continue to validate non-normative narratives through their music.
Though female-performed songs about repressive gender norms, equal rights, sex and body positivity can be traced as far back as turn-of-the-century Appalachia (thank you, Carter Family), it wasn't until '60s and '70s, with second-wave feminism and artists like Patti Smith, Sioxsie Sioux, and The Raincoats, that "punk feminism" fully actualized. Riot grrrl founders like Bikini Kill and Bratmobile picked it up from there, and now in 2016, many female-identifying are still fighting the good fight from behind the mic. As they know, female musicians are required to perpetually prove that their music is more than a "hysterical" blip in rock n' roll history, but a way of seeing the world that needs to be heard. So, on that note, here are eight current progressive, badass, female-driven punk bands from the region that you need to hear.
1. Tacocat
This pop-punk band out of Seattle just got some national attention following the writing of a new theme song for a reboots of the Powerpuff Girls television show, but when it comes to the PNW, Tacocat has ruled for a while. The group began to get real attention when they signed with Hardly Art Records and released their clever, patriarchy-bashing album NVM in 2014. This year's album, Lost Time nerds out over Dana Scully and Horse Grrls, while also coming down hard on rampant gentrification and calling out catcalling. One of the best things about Tacocat is that at live shows, lead singer Emily Nokes has no qualms screaming about UTIs and periods, and often calls out men in the audience who obviously have no idea what they're in for. Plus, Nokes and bassist Bree McKenna recently made the cover of Seattle magazine City Arts with Kathleen Hana herself, which is pretty much the closest you come to a riot grrrl seal of approval.
2. CHILDBIRTH
When Bree Mckenna isn't holding down the bass in Tacocat, she's playing alongside Chastity Belt's Julia Shapiro and Pony Time's Stacy Peck in CHILDBIRTH. As explicitly taboo-fighting as their name implies, CHILDBIRTH opens its 2015 Suicide Squeeze release screaming, "Women's rights, women's rights, women's rights!" The album continues on to put music to mansplaining in "Tech Bros," the woes of dating on Tinder in "Siri, Open Tinder," and the people who make you ask "Since when are you gay?" With a no-shits-given attitude and hooks that become earworms, CHILDBIRTH is an indie super group that serves as another vital notch in the belt of the Pacific Northwest's D.I.Y. scene.
3. G.L.O.S.S.
For something a bit grittier, but still drenched in empowerment, turn your attention to Olympia, Wash.-based G.L.O.S.S. (Girls living outside society's shit). Loud, angry, colorful and queer, G.L.O.S.S. isn't afraid to epitomize subversion and address backward gender and sexuality norms. They hit like an earthquake in 2015 with their five-song "Demo," and their namesake song "G.L.O.S.S." In it, lead singer Sadie belts, "They told us we were girls / how we talk, dress, look, and cry. / They told us we were girls / So we claimed our female lives. / Now they tell us we aren't girls / Our femininity doesn't fit. / We're fucking future girls living outside society's shit." Read those lines again, rinse, and repeat.
4. Lithics
Portland, Ore. band Lithics has some of best post-punky vibes around. With bizarrely shrill guitar counterpoint and grooves that march persistently forward, listening to the Lithics is like being stuck in an infinite, loopy trance. Though not as openly political as other bands on this list, the song "Labor" reflects anti-corporate ideals, while "Seven People" speaks to the queercore and fem-punk tropes of bringing societal outsiders into the fold. Plus, the band's only lady is out-front leading the pack, which may as well be a politicized move in itself.
5. Lunchlady
Out of Vancouver, B.C., Lunchlady sounds like the soundtrack to some tortured housewife or dejected schoolteacher. Lunchlady screaming the ingredients to "Ambrosia Salad" into the mic is as comedic as it is chilling—a sign that they've hit on some real truths about gender entrapment. On top of that, cuts like "Sit on a Tack" off their 2014 release take that, the devil begins with a warbled grandma-like voice sharing wisdom about finding the joy in life, and then proceeds to go on like some evil version of "The Wheels on the Bus Go Round and Round." It's just twisted enough point our attention towards how we educate kids and the sort of questionable ideas we pass down from generation to generation. Lunchlady's only got a couple EPs out and it's rumored that they're no longer together, but they just had to make this list.
6. Mommy Long Legs
Along these same lines, there's Mommy Long Legs out of Seattle. With songs like "Haunted Housewives" and "Cat Callers," it's clearing they're pointing out the patriarchy with a fervor. Singer Lilly Morlock has a great Valley Girl-esque style to her singing, and like a '60s surfer with extra-bad attitude, she fronts the group's slightly-surfy distorted punk. Perhaps their most well-loved and controversial song, "Assholes," has this all-female band singing in unison, "you can take your money / and put it in your asshole / you can / take your condo and put it in your bungalow / you can take your goddamn / financial plans and jerk yourself off!"
7. Lisa Prank
Seattle's lo-fi solo queen Lisa Prank is also known as Robin Edwards. Singing self-deprecatingly about her inability to grow up, Lisa Prank's newest release on Father/Daughter, Adult Teen is all about the struggle to adult in the 21st century. Edwards writes catchy melodies that harken to blink-182 and early Green Day while singing about bad conversationalists, dumb crushes, and loving too hard, but all from the female perspective. Watching her perform live is a trip, too, as she masterfully overlays live guitar and voice over her drum machine's dance-y beats, standing alone on stage wearing a delightfully deserved pointy cardboard crown.
8. Hardly Boys
In a recent article in Rookie, Seattle band Hardly Boys called their music "friendship punk." And sure enough, their most recent EP Tit Punch sounds like a bunch of rebel Girl Scouts singing songs and smoking cigarettes in the schoolyard. Tit Punch is the band's most recent release, and one that guarantees to quiet the mind after some dude grosses you out by staring at your ass for too long. "Hot Mullet" is especially great—a special little song for those of you out there are into the "business in the front, party in the back" hairstyle, and the track "Juno Rose" directly references Bikini Kill's classic "Rebel Girl." This brings a feel of intergenerational sisterhood that brings the riot grrrl ethos full circle.