Holy '90s: The Offspring and 311 Have Covered Each Other's Songs
We're willing to bet you already know exactly what to expect
Images via Michael Loccisano/Getty, Tim P. Whitby/Getty
Music
News
311, The Offspring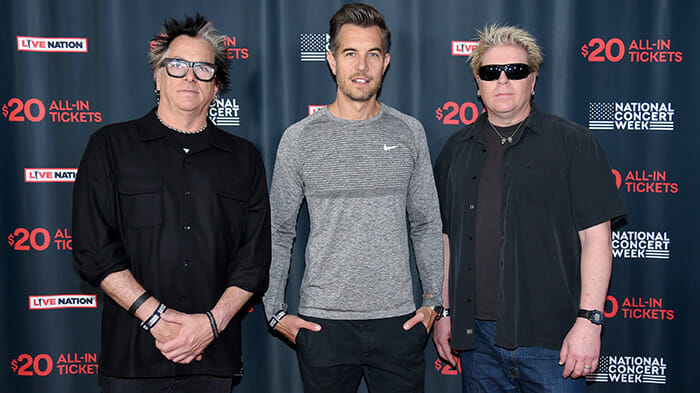 It's time to go into your closet and grab those clothes from the '90s that you could never get yourself to throw away; yes, that includes the hair gel you used to create that less-than-cool spiky-hair look. You might ask yourself, "why are you asking me to indulge in this nostalgic brand of torture?" And the answer is this: The Offspring and 311 are going on tour together starting next week, and to celebrate, they've released covers of each other's songs.
It's a match made in alt-rock heaven with The Offspring taking on 311's hit "Down" and 311 giving us a "reggaefied" version of "Self-Esteem," (nevermind us while we recover from how cringey the word "reggaefied" is).
"It was the Offspring's idea, and a great idea," 311's Nick Hexum told Billboard.
"They said, 'We had the idea to cover your song, and we've done it,' and I was like, 'Wow! I have to hear this,' 'cause it's such a signature song. Were they going to cover it faithfully or rework it?' They reworked it just enough; There's punk to it, and Dexter (Holland) actually does a killer job of rapping SA (Martinez)'s parts in more of a punk rock style, with fast drums. We were so blown away, It was so my fun to hear that. So we returned the favor and reggaefied ('Self Esteem'), which is probably my favorite song of theirs. It'll be a lot of fun to give the fans new versions of these songs they love so much."
The covers sound exactly like you would expect them to; which is either good or bad, depending on your opinion of catching summer rays in front of the backdrop of '90s nostalgia. For us, it just did not hit the mark; on the "Down" cover it feels like singer Dexter Holland is making fun of hip-hop mannerisms in a way that's too close to "Pretty Fly For a White Guy." It's probably great news for anyone who has been dying to hear the lead singer of a Southern California pop-punk band rap, but you can decide for yourself after listening to the two tracks below.
Either way, can pre-order a split seven-inch, limited to 1,000 copies, starting at 10 a.m. PST Friday on the official Offspring and 311 websites.