"30 Days, 30 Songs," Now Expanding to 40 Songs, Adds Tracks by Vinnie Paz, Jesu/Sun Kil Moon, Filthy Friends
Images via 30 Days, 30 Songs
Music
Video
30 Days, 30 Songs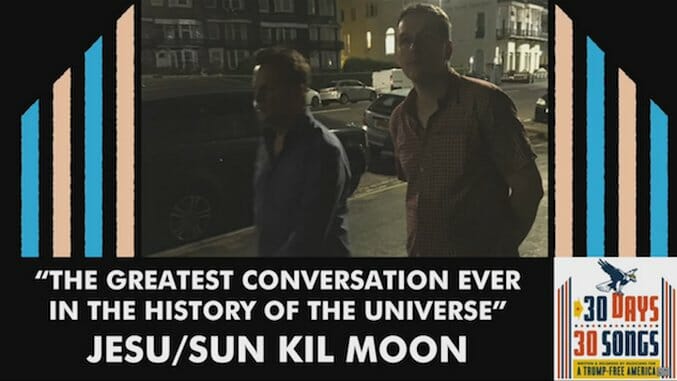 "30 Days, 30 Songs" is getting bigger. Not only do the three most recent songs run for a total of about 21 minutes, but the anti-Donald Trump protest song project announced today that it would be adding 10 songs to its lineup after increased interest from artists wanting to join the lineup.
Today's first song, titled "The Greatest Conversation Ever in the History of the Universe," comes from the collaborative project Jesu/Sun Kil Moon. A nearly 10-minute-long spoken-word song, it touches on Lou Reed, Muhammad Ali, Trump and Pokémon GO. Broadrick, who wrote the lyrics to the song, said in his statement:
I wrote the words to this one in the early morning hours of August 2nd in a New York hotel room, a few nights after I played a Lou Reed tribute concert at The Lincoln Center. A lot of things were happening at once. I remember turning on the TV and seeing that two 12 year old girls were being tried as adults for something to do with a videogame, and I had a dinner with friends where the subject of Pokemon came up. Trump wasn't just all over USA television at the time. I'd spent June and July in Europe and his face was on news stands all across Europe (not Hillary's). I don't like Trump, but it's my opinion that we all have to look inward and ask ourselves how we got here in the first place. We're all in this together, we all took part in the platform he's been given, and if you don't know what I'm talking about, then YOU'RE FIRED!
The other track added today is "Despierta" by Filthy Friends, a volcanic victory lap of a track that declares, "Your time is over / Your power's peaked." The band, a supergroup made up of R.E.M.'s Peter Buck and Sleater-Kinney's Corin Tucker, along with Scott McCaughey, Kurt Bloch and Bill Rieflin, made the following statement to accompany their anti-Trump tune:
We wrote 'Despierta' a couple of years ago, before Trump announced his candidacy, as a sort of forecast for where the country might be changing culturally and politically. The reality of the Trump campaign has been much uglier and disheartening than any scenario we had imagined. We hope with all our hearts that we will be saying "Adios" to Trump come election day.
On Saturday, Paste got an exclusive look at U.S. Elevator's song "Old Man Trump," which has lyrics by folk-music icon Woody Guthrie. Find that song here.
And finally, Sunday saw the release of rapper Vinnie Paz's track, "Writings on Disobedience and Democracy," taken off of his forthcoming album The Cornerstone of the Corner Store. Inspired by Howard Zinn, the song retells American history to question the imperialism of World War II, the government's opposition to the Civil Rights movement, the fallout of Vietnam and Watergate, and the effects of Ronald Reagan's trickle-down economics. Paz released this statement:
This song is a continuation of a song I had on my last album, and it's heavily inspired by the writings of Howard Zinn. It felt like the right time to rekindle some of these forgotten stories in American history … the stories that aren't necessarily taught in our classrooms.
You can watch the video for "The Greatest Conversation Ever in the History of the Universe" embedded above. "Despierta" and "Writings on Disobedience and Democracy" are embedded below.