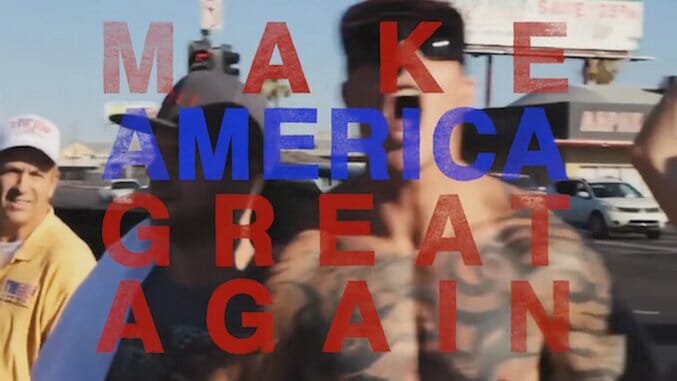 First he reunited The White Stripes and now Donald Trump has brought The Long Winters back after 10 long years without any new music.
We've seen artists in "30 Days, 30 Songs" write songs from Trump and his supporters' perspective in order to interpret or criticize them, but The Long Winters' song from today is a departure from that mold. "Make America Great Again" is maybe the closest thing to a recitation and distillation of the beliefs and culture from that demographic that you could manage without outright propagating those beliefs. The Long Winters frontman John Roderick explained his intent with the song in his statement:
While there are a lot of songs that express elements of what makes Donald Trump so appealing to his followers, like "Desperado" by the Eagles, "Sweet Home Alabama" by Lynyrd Skynyrd, "Honky Tonk Badonkadonk" by Trace Adkins and "White Rider" by Skrewdriver, there's never been a song that put everything together under one roof. 'Make America Great Again' is a folk song, because it's from the Volk, the people. If I can help condense all the feelings and issues that inspire Trump voters into a song, and then play that song for the world, well then I will have done my part.
And, released late last night was JPEGMAFIA's track "I Might Vote 4 Donald Trump," featuring Freaky. That title probably seems a little out of place among its ardently anti-Trump brethren, but the song and its title represent JPEGMAFIA and Freaky's almost nihilistic feelings towards the election as a whole. JPEGMAFIA explains in his statement:
Me and Freaky wrote the song as a protest song about the entire election. Not on some Green Party shit but just commentary on how ridiculous and reality tv American politics has become. It shouldn't even be legal to vote for someone like Donald Trump. This is a moment in time. Never in the history of American politics has there been a nigga this fucking dense running for president of the free world and only in this country could a Donald Trump become this important. I feel like this is the candidate America deserves and from what it seems like, it's the candidate they want so fuck that shit put that orange-ass nigga in office let's see what happens.
You can watch The Long Winters video embedded above and JPEGMAFIA's below.