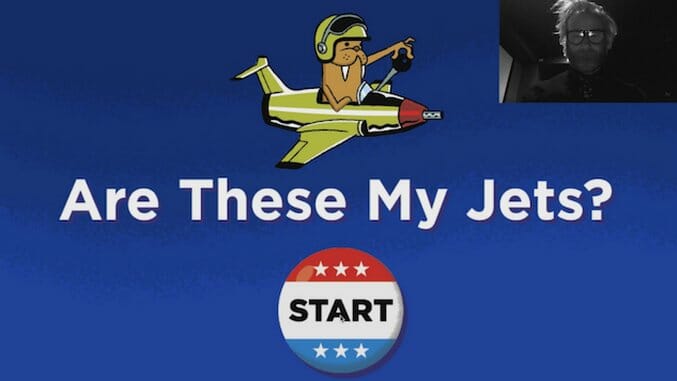 We're heading into the second week of the anti-Donald Trump protest song project "30 Days, 30 Songs," and to kick it off is EL VY's "Are These My Jets?"
EL VY, the duo made up of The National's Matt Berninger and Menomena's Brent Knopf, have made probably the most esoteric song of the bunch so far, talking about bluebirds committing suicide, Lego skulls and jewelry for walrus genitalia. The duo's statement accompanying the song explains how they first learned about such accessories:
This is a song about walrus penis jewelry, which is a real thing. My sister, Rachel, was given some by a Canadian bush pilot when she worked for Alaska Airlines in the '90s. With regard to the game, we called our colleagues, [programmer Brent] Sodman and [artist John] Solimine, and said, 'We'd like a cathartic interactive experience. We'd also like to shoot bluebirds and meat with a sniff blaster.' They asked us, 'What for?' Somebody said, 'It's time to start healing.'
Shown off in the video, the aforementioned game features a walrus piloting a jet and shooting down red, white and blue popsicles, bags of money, elephants, apple pie, Tic Tacs, and more, while a wall slowly gets built in the background and a giant Abe Lincoln cries.
"30 Days, 30 Songs" also posted two other songs over the weekend, including "Before You Vote," an appeal from Paste favorite Thao to people who plan to vote for Trump in November, and a previously unreleased live version of Josh Ritter's "The Temptation of Adam," which he says he wrote "during the [George W. Bush] administration, in the midst of what seemed to me then to be the darkest days in American political history. Listening to this live version as I write, however, I'm struck by just how innocent it seems."
You can listen to Thao's song here, and Ritter's song is embedded below. "Are These My Jets?" is embedded above, and you can play its accompanying browser game here.