Cold War Kids, The Cooties, Reggie Watts and More Have Joined "30 Days, 30 Songs"
Images via 30 Days, 30 Songs
Music
Video
30 Days, 30 Songs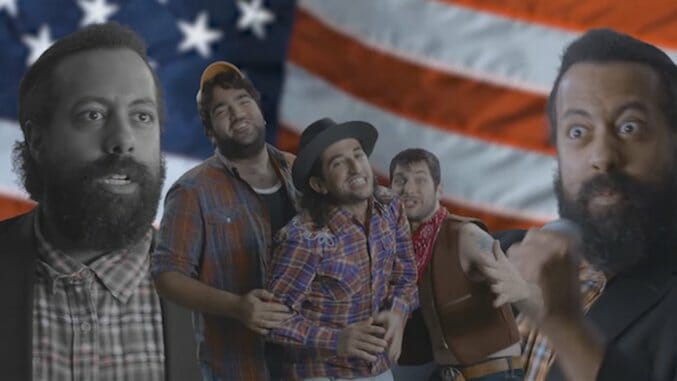 With "30 Days, 30 Songs" ramping up to two songs a day, we have a lot of anti-Donald Trump music to get to after the weekend.
Today's first song, embedded above, comes from Cold War Kids. Inspired to join "30 Days, 30 Songs," by the first song in the project, Death Cab for a Cutie's "Million Dollar Loan," Cold War Kids' "Locker Room Talk" talks about Trump's braggadocious comments on sexual assault and his plan to build a wall on the Mexico-U.S. border. The band said in their statement:
At this point in the game, taking a shot at Trump almost feels unnecessary. Too easy. More negativity. We're all so tired of him. But when I heard Death Cab's song, I realized that's a mistake. It's important to state the obvious, to express those feelings in a song. Even if it's maybe redundant, it feels great to let it all out!
The second song released today isn't an original, but it's certainly a welcome change of pace to the usual proceedings. Comedy-rock group The Cooties and former Comedy Bang! Bang! bandleader Reggie Watts teamed up on "Trumpy Trump," a song about how nothing could go wrong if Trump got elected because he's 12 feet tall, can turn invisible and has super speed. The band has been performing the song for over a year now, but apparently it's lost some of its comedic value for them since then:
We wrote "Trumpy Trump" back in July 2015 because of how absurd the thought of a Trump presidency would be. We didn't think he would get so far. We continued to perform the song live but with every month that went by, the joke felt like it was more and more on us. We have been shocked every step of the way and can only hope that this song helps to bring him down.
Along with the two songs from today, over the weekend we got songs from Sam Cohen, Blake Hazard, Wesley Stace and Loudon Wainwright added to "30 Days, 30 Songs." Watch Cold War Kid's video for "Locker Room Talk" above and see the rest of the weekend's music embedded below.
The Cooties feat. Reggie Watts, "Trumpy Trump"
Loudon Wainwright III, "I Had A Dream"
Wesley Stace, "Mr. Tangerine Man"
Blake Hazard, "Little Situation"
Sam Cohen, "Clockwork"