Clipping. Fit a Lot of Trump Insults into Two Minutes in Today's "30 Days, 30 Songs"
Images via 30 Days, 30 Songs
Music
Video
30 Days, 30 Songs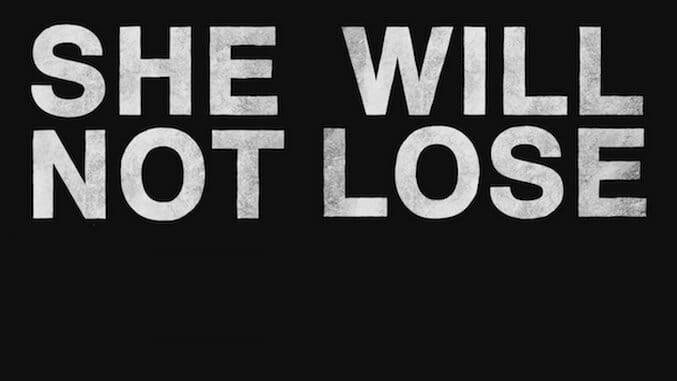 Lin-Manuel Miranda has already done his part to support Hillary Clinton through music, so now it's time for another Hamilton alum to step up.
Today's first "30 Days, 30 Songs" entry is from clipping., the experimental hip-hop group made up of producers William Hutson and Jonathan Snipes, and rapper Daveed Diggs, who shot to national stardom for his dual roles of Marquis de Lafayette and Thomas Jefferson in Hamilton.
The song, called "Fat Fingers," goes from insults to listing of Trump's faults, to attacking the media's reporting of him, and to what might happen if he's elected; all the while, the video of the destruction of Trump's star on the Hollywood Walk of Fame plays. It's a lot to fit in two-and-a-half minutes, but that kind of thing is Diggs' specialty.
Clipping. were "among the first artists announced for "30 Days, 30 Songs but took much longer to show up in the project than the others. The group's statement helps explain why:
When this project was first presented to us, we were asked to contribute our track "Knees on the Ground," which was released on our SoundCloud back in 2014. The song is about the murder of a young, unarmed black person by an overzealous, militarized, racist police force. While that topic has not lost its relevance, we decided that it's in some ways unrelated to the outcome of the current presidential race—racism in the US predates this particular contest by centuries and will certainly not be solved simply by keeping one overt white supremacist out of political office. Additionally, "Knees on the Ground" is a deeply serious song, whose tone fits its horrific subject matter. Listening through the tracks that other artists have contributed to the project so far, a sense of whimsy prevails. It is as if the different songs and their themes were written to complement the absurdity and the laughing-through-the-tears quality of the race. We saw this as an opportunity to indulge ourselves in similar frivolity, not to downplay the direness of the situation, but to engage in other established modes of political critique: satire, irony, and yo' mama jokes.
Donald Trump has time and again proven himself to have the temperament of a petulant, whiny child. In the world of hip-hop, that behavior finds its most visible expression in the forms of battle rap and diss songs. We decided to address our attack in those languages. Our song is set on a schoolyard, using drum sounds constructed from fists beating on metal lunch tables, benches, and dumpster lids. Diss songs are made quickly and have very short shelf lives. They are often written and recorded in a few hours so that the tape can be delivered to Hot 97 before one's rival's tape arrives. They are quickly replaced and updated, day to day, by each subsequent response. In that spirit, we hope that this song will lose all of its relevance on November 9th. However, if it doesn't—to our friends in New Zealand and Canada, we might need to leave our country in a hurry, so we learned your national anthems.
And released late yesterday was Mirah's song "No Guns No Guns," a pacifist plea to those in power to get rid of guns and end war. Her statement is below.
This song is the feeling of wanting to rowdily but peacefully recreate our country to be the place we want it to be. It's a rallying song, a protest song, about feeling sick of war, sick of the political stagnation in Washington, sick of the murders of unarmed black men and women at the hands of police, sick of all gun violence and senseless death, sick of bigotry and racism and about wanting to harness the power of the people's desire to live free, healthy and empowered lives. We want to create a society and a world where everyone is treated with dignity and respect. We want to keep perfecting the Union while rejecting divisiveness. Let's make it beautiful and let's have fun doing it. No Guns No Guns! And Never Trump.
You can watch the video for clipping.'s song above. Mirah's song is embedded below.