Men Demand Male-Only Star Wars XIII Screening, Get Blasted By Lucasfilm Exec
Images via Warner Bros./YouTube
Movies
News
wonder woman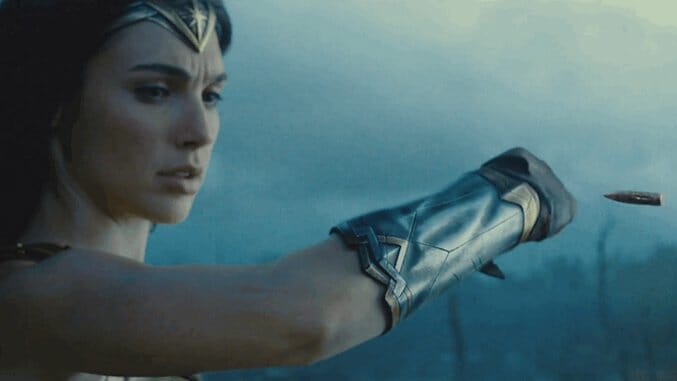 In response to the news that the Alamo Drafthouse theater chain was going to host a women-only screening of Wonder Woman, outraged virgin men rose up to demand a little gender parity. Ignoring that the Wonder Woman screening is supposed to be a single night, a week after the film premiere and for charity, DC figure Jack Posobiec demanded male-only screenings of Star Wars XIII for the entire first week of release.
They're doing women-only screenings of Wonder Woman 

I propose men-only screenings of Star Wars. For the entire first week.

— Jack Posobiec ???????? (@JackPosobiec) May 28, 2017
Lucasfilm executive editor Jennifer Heddle quickly responded to make fun of Posobiec.
We ladies who work at Lucasfilm will still see it before you. https://t.co/9ci1UMSyVN

— Jennifer Heddle (@jenheddle) May 30, 2017
Then, MSNBC's Joy Reid sarcastically pointed out that Posobiec was supposed to be against Star Wars after Rogue One apparently snuck in anti-Trump sentiments. Posobiec was evidently behind the ill-advised #dumpstarwars campaign back when Rogue One was preparing to release.
Star Wars writers rewrote and reshot Rogue One to add in Anti Trump scenes calling him a racist. Disgusting.#DumpStarWars

— Jack Posobiec ???????? (@JackPosobiec) December 8, 2016
Weren't you boycotting Star Wars? I mean, the brown people are still in it. https://t.co/56pwRIT4nA

— Joy Reid (@JoyAnnReid) May 30, 2017
Admittedly at this point it's starting to look more like typical trolling. Would any sane man really feel that offended by a female-only screening? Honestly, the exceptional levels of stupidity on display almost make it seem like a sneaky advertising campaign. After all, what better way to get butts in seats than somehow equating the act to standing up for women's rights? Maybe Jack Posobiec is actually the best feminist.
Or maybe he's just an asshole.
Watch the final Wonder Woman trailer here, and learn more about the next Star Wars right here.