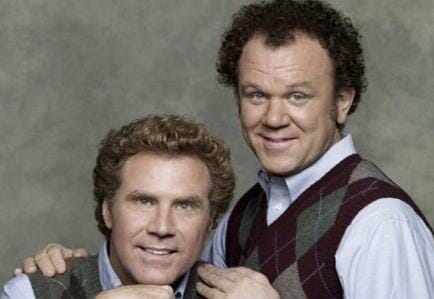 Release Date: July 25
Director: Adam McKay
Writers: story by Will Ferrell and Adam McKay and John C. Reilly, screenplay by Will Ferrell and Adam McKay
Cinematographer: Oliver Wood
Starring: Will Ferrell, John C. Reilly, Mary Steenburgen, Adam Scott
Studio/Run Time: Columbia Pictures, 95 mins.

Ever since he left his starring role on Saturday Night Live for superstardom in film, Will Ferrell's many characters have been criticized as being pretty much all the same.They're overgrown children, unable to cope with the world.Step Brothers' strength is admitting this and turning it around into the premise for the film. Other than childishness, there is pretty much no other aspect to his character, Brennan Huff, or John C. Reilly's Dale Doback, to the point where they're literally beaten up on a schoolyard by bullies.It's no longer about being an overgrown child as a racecar driver or news anchor; instead, it's back to the basics and better because of it.

Following the tradition of Dumb and Dumber and Beavis and Butthead, Step Brothers' premise is simple.When an adult couple marries, their two live-at-home middle-age sons end up as step brothers.Equally juvenile, the two begin as enemies but eventually become best friends when they realize that aside from a few surface differences, they're pretty much the same person.Trouble besets them when, after a particularly goofy fight, their parents force them to search for work and eventually decide to break up due to the difficulty of living with such a deranged family. Really, the plot is just window dressing.You can't get much simpler than this, and that's the point.The more complex it is to get from point A in the story to point B, the less you're paying attention to the characters and the jokes.
Ferrell and Reilly's characters are for the most part indistinguishable and some of the jokes are the same ones Ferrell has been doing for years.Not all of them, though, and as one of performances he co-wrote with writing partner and ex-SNL head writer Adam McKay, even the same material is a bit more polished than elsewhere.There's no denying that Step Brothers doesn't look that much better than McKay and Ferrell's web shorts, but it's unimportant.The comedic timing is still impeccable and when the movie is on, it's really on.
Recommending Step Brothers to anyone who's not already a Ferrell supporter is pointless.It doesn't offer anything different from before, and even longtime fans may be a bit disappointed with how utterly paper-thin the premise is.But as far as sheer laughs go, Step Brothers is an undeniable success. Despite being perhaps McKay and Ferrell's weakest film yet, it's still a McKay/Ferrell film, and that's enough.