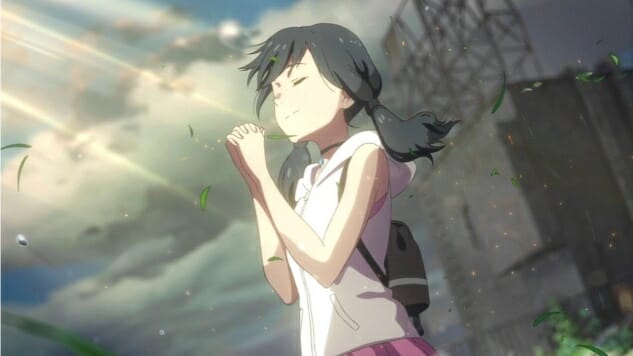 Makoto Shinkai has carved a niche for himself as a purveyor of the melancholic over his nearly two-decade-long career as a filmmaker. From his self-produced debut Voices of a Distant Star to 2013's Garden of Words, the elements of a Shinkai-helmed film have become so idiosyncratic as to be rote. Heart-sullen teenagers, lilting piano ballads, and intricately detailed settings dappled in golden hour lighting. 2016's Your Name was nothing if not a fine-honing of these aesthetic sensibilities, the result of which was a film whose critical and commercial success vaulted Shinkai's already considerable reputation to yet greater heights. But with success comes its own challenges. After a meteoric effort like Your Name, what could Shinkai possibly do to follow up what many call his most career-defining work to date? The answer to that question is Weathering With You, yet another love story of magical circumstances, albeit one marred by a confoundedly fatalistic message at its core.
Set in contemporary Japan, the film follows Hodaka Morishima, a 16-year-old runaway who flees from his remote hometown to eke out a living in Tokyo. Whether it's angst or wanderlust, there's something brewing inside of young Hodaka, driving him to move forward and never look back with little in the way of an answer why. It's been raining across the city for two months straight, and with little money and no legal means of work, Hodaka accepts a job as a live-in assistant to Suga, the gruff editor of a fringe conspiracy rag. Assigned to write a story on a mysterious girl rumored to be able to control the weather, Hodaka inevitably crosses paths with Hina, an orphan whose outstanding abilities prove to be true. Together with Hina's younger brother Nagi, the trio begin to sell Hina's services to would-be buyers, bringing light and warmth to the city. Soon enough, however, the mounting consequences of both Hodaka's choices and Hina's powers grow to imperil not only the lives of the young couple but those of the entire city, and a fateful choice must be made.
Unsurprisingly, Weathering With You is gorgeous. Shinkai's affection for rendering metropolitan Japan in lovingly scrupulous detail is nothing new to longtime followers of his work and he stays true to form with this film's depiction of Tokyo. What's more impressive than the film's rendition of glitzy interiors and bustling thoroughfares is its fawning attention to the more mundane and dilapidated corners of the city. Every inch of Weathering With You's world feels as lived-in and daunting as a real city, juxtaposing the picturesque with the commonplace in a way that infuses every location with its own sense of allure and charm. Japanese rock quartet Radwimps returns to pen the music and score for Weathering With You, with poppy instrumental tracks that accompany a plot that always feels like it's moving with purpose. Weathering With You manages to be Shinkai's most action-heavy and lively effort yet, despite being set against the backdrop of torrentially drenched Tokyo.
Where the film stumbles is in the execution of its broader themes, the most prominent of which being climate change. At one point, Hina's powers are linked inextricably to this phenomenon, positing that the increased use of her abilities is causing an inadvertent accelerative effect on the weather surrounding Tokyo. At one point, the correlation is made clear: in order to save Tokyo, and likely the entire country from being submerged by an unending rain, Hina must return to the source of her powers and essentially give up her own life. The film's denouement espouses a bewilderingly fatalistic and blasé attitude to the destruction of the biosphere and the existential endangerment of the human race with a message of, "The world has always been crazy. So it's no one's fault that it's like this." It's a deafening sour note to end on for a film that up until three-fourths of the way otherwise felt so vivacious and hopeful. Weathering With You is a love story, no doubt, but a love story framed in the context of environmental collapse. It never quite rises to pedigree of Your Name, but it certainly asserts its place in Shinkai's oeuvre as his most challenging film to date.
Director: Makoto Shinkai
Writer: Makoto Shinkai
Starring: Kotaro Daigo, Nana Mori
Release Date: January 15, 2020
---
Toussaint Egan is a culturally omnivorous writer who has written for several publications, including Kill Screen, Playboy, Mental Floss, and Paste. Give him a shout on Twitter.