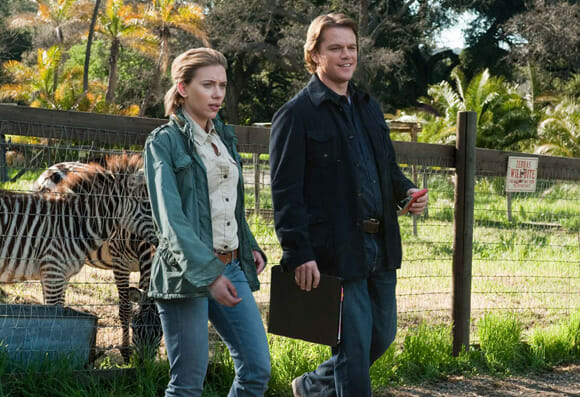 If, while watching writer/director Cameron Crowe's latest project, you should happen to forget the name of what you're seeing, the film will happily remind you, three times. Twice via a precocious little girl (Maggie Elizabeth Jones) with just the right amount of sugar in her cadence. While this cinematic no-no is cringe-inducing, it's only one of the problems with We Bought a Zoo.
The story would seem straight out of Hollywood if it weren't loosely based on the actual Dartmoor Zoological Park in England. Matt Damon plays Benjamin Mee (named for the real-life owner of Dartmoor), an adventurous journalist living in California. (We know he's adventurous because the movie both shows and tells us he is.) He and his two children are recovering from the recent death of his wife, their mother. With too many painful memories in their neighborhood, and with his brooding son Dylan (Colin Ford) expelled from school, Benjamin decides to quit his job and find a new home for a fresh start.
After the shortest house search in history (conducted, oddly enough, by Curb Your Enthusiasm's JB Smoove as the Realtor), they decide on an 18-acre property that also happens to be a dilapidated you-know-what, owned by the state and maintained by a motley skeleton staff, including scrappy head zookeeper Kelly Foster (Scarlett Johansson). Together, the Mee family has to help said staff get the animals healthy and the park up and running in time to pass government inspection and reopen for the summer. If they can heal their emotional wounds along the way, then all the better.
Crowe's somewhat treacly script and ham-fisted (gorilla-fisted?) direction don't guide the audience along so much as pummel it into submission. Confused about how you should feel when there's a huge rainstorm the day before the park opens? Don't worry. A piano dirge by (no joke) Randy Newman will inform you. The film is filled with inorganic moments that feel written, not spoken ("Their happy is too loud," says Benjamin's daughter Rosie of a raucous party next door) and broad characters who exist to serve a function in the script, not who live and breathe as people, like the drunk Scottish grounds designer (Angus Macfadyen), or the USDA inspector (John Michael Higgins), who is so unnecessarily villainous he might as well be twirling a mustache. It almost seems as if this should be a Disney movie, until some of the characters start cursing. (And there's that soundtrack that lays on Tom Petty, Bob Dylan and Neil Young, who aren't exactly clogging your kids' bandwidth with iTunes downloads.)
Thankfully the film does have some effective moments, such as Benjamin's stubborn refusal to put down an ailing tiger, a metaphor for the memories of his wife that he won't give up. Those memories also come to life in a moving sequence while flipping through old pictures on his computer. His strained relationship with Dylan also strikes a true chord, but the resolution, like much of the film, is far too tidy.
If We Bought a Zoo had come out during Cameron Crowe's Say Anything salad days, or even his Jerry Maguire heyday, it would have fared better, as more stylistically contemporary. But as a modern dramedy it feels stale and makes one wish for that Judd Apatow touch to ground it more in reality. All the cute animals in the world can't save it, but hey, at least they don't talk.
Director: Cameron Crowe
Writer: Aline Brosh McKenna & Cameron Crowe (screenplay) & Benjamin Mee (book)
Starring: Matt Damon, Scarlett Johansson, Thomas Haden Church, Colin Ford
Release Date: Dec. 23, 2011