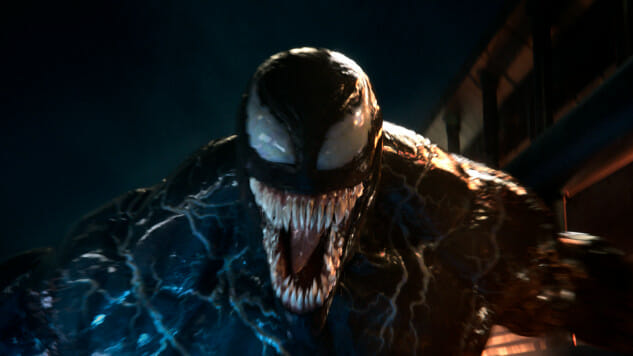 There's an old saying in Hollywood that I just made up: If you make ridiculous bank at the box office, you get a sequel greenlit, no questions asked. That's certainly the case for Sony's Venom, which was utterly savaged by critics but still managed to make a whopping $855 million worldwide. That's only $25 million less than Marvel Studios' own Spider-Man: Homecoming, which certainly proves that audiences are hungry for more Spider-Man related content, even if the web-slinger doesn't appear in it. And so, it shouldn't be surprising today to see that Sony has officially started work on the film's sequel, which was already teased in Venom's ending credits sequence. The studio has chosen Kelly Marcel, one of the screenwriters from the first film, to handle the script solo.
Obviously, Tom Hardy should be a lock to return as incompetent reporter/antihero Eddie Brock/Venom, considering that the sequel will no doubt be his opportunity to score the biggest single paycheck of his career. Other returning faces would include Michelle Williams and especially Woody Harrelson, who was teased as serial killer Cletus Kasady in the film's closing moments, wearing the most absurd wig of his career. The obvious implication is another symbiote vs. symbiote showdown as we got in the first film—except this one is Carnage, so obviously it will all be much more compelling, right?
Comic book fans seemed to react to Venom with a series of exasperated shrugs, but here's the thing—the casual, theatergoing public really didn't hate the film nearly as much as the comic geeks among us implied that they did. Beyond the huge box office, Venom brought in a respectable B+ Cinemascore, implying that the rank and file of theatergoers weren't particularly dissatisfied with the experience. It also implies that there's folks out there who would be interested in the Venom sequel.
It's not quite official, but industry insiders are pegging the likely release date of the Venom sequel (think it will be called Venom: Carnage?) as October of 2020, which would match the release window of the original. A director has not yet been set, but Variety muses that Venom director Ruben Fleischer would be a maybe to return, as he is already busy with the long-awaited sequel to Zombieland.
More news on the Venom sequel as it arrives.