Brie Larson Chases Her Dreams in Netflix's First Trailer for Her Directorial Debut, Unicorn Store
Image via Netflix
Movies
News
Unicorn Store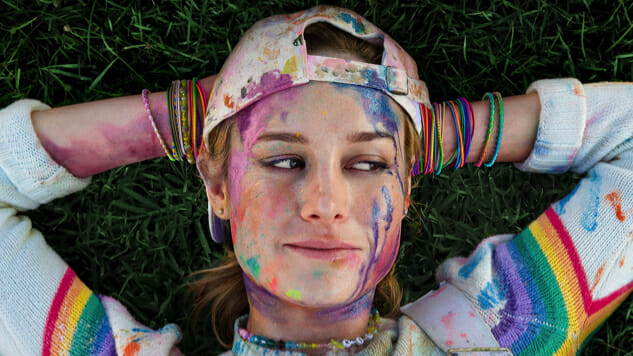 2019 has the look of a career year for Oscar winner Brie Larson, who's not only taken the box office by storm as Captain Marvel's titular hero—a role she'll reprise to play a critical part in April's much-anticipated Avengers: Endgame—but also is making her directorial debut with Unicorn Store, a whimsical coming-of-age tale in which Larson also stars alongside her Captain Marvel colleague Samuel L. Jackson.
Kit (Larson), as Netflix's synopsis explains, is a lonely 20-something dreamer who's hesitant to leave her childhood behind. But when she's booted out of art school, Kit ends up back home with her parents (relatable, eh, millennials?) and has to take a soul-sapping temp job to pay her way. Just when she's decided to finally grow up, Kit encounters a mysterious salesman (Jackson) who offers up her inner child's foremost desire: a unicorn. Kit's parents (Joan Cusack and Bradley Whitford) think she's off her rocker, but she goes for it regardless—after all, "Everybody needs some magic in their lives, even if they're all grown up."
The Samantha McIntyre-scripted Unicorn Store is Larson's first feature, but not the Room Academy Award winner's first time in the director's chair: Her resumé also includes The Arm, a 2012 short she co-wrote and -directed, and Weighting, a 2013 short she co-wrote and -directed, and starred in.
Unicorn Store streams on Netflix starting April 5. See the film's new trailer and key art below, and find out what else is arriving on (and leaving) Netflix next month right here.