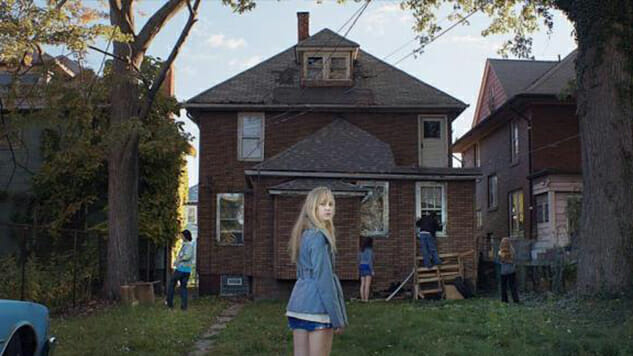 David Robert Mitchell's 2014 horror film It Follows stands out as one of the genre's most impressive debuts in recent memory, a creeping terror that felt oddly familiar, infused with the spirit of John Carpenter and '80s urban legend. As such, we've all been waiting anxiously to see how he follows up on It Follows, and the good news is this: We won't have to wait much longer.
Mitchell's next film, which he also wrote, has officially received a June 22 release date from A24. Titled Under the Silver Lake, it stars Andrew Garfield, Riley Keough and Topher Grace, and is described as a modern crime story/neo-noir of sorts. According to Bloody Disgusting, "the film centers on a man who becomes obsessed with the strange circumstances of a billionaire mogul's murder and the kidnapping of a girl." The official synopsis offers a bit more detail:
Sam (Garfield), an affable but aimless young man, becomes an unwitting detective who quickly finds himself in over his head as he investigates the mysterious disappearance of his beautiful neighbor, with whom he has fallen in love. As he combs through East Los Angeles searching for any kind of clues he can find, he stumbles upon a larger, more sinister conspiracy than he ever imagined, involving billionaires, celebrities, urban myths, and even pop culture as we know it.
Sounds a bit like Rian Johnson's Brick, does it not? We also can't help but wonder if the reference to "urban myths and pop culture as we know it" means the film will somehow tie back in with the urban legend at the heart of It Follows. Who's to say?
One last factoid of merit: The film has a soundtrack from American composer Disasterpiece, who did some very memorable work on It Follows. Under the Silver Lake debuts in select New York and L.A. theaters on June 22, to be followed "by a nationwide expansion." Let's hope that means some dates in your local market.
Presumably, we can expect to see a first trailer for Under the Silver Lake pretty soon. Until then, we'll have our fingers crossed that this film can live up to the one that preceded it.