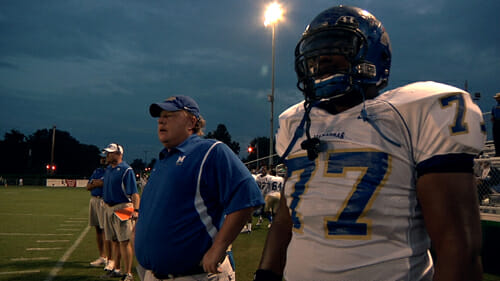 Undefeated is such a well-meaning, heart-on-its-sleeve documentary that one feels morally obligated to write words in praise of it. In fact, anyone admitting to a dislike of the film runs the risk of being called a heartless crank. Having scored a 2012 Academy Award nomination in the Best Documentary category, it's safe to say that Oscar voters are not in the camp of doubters and naysayers.
There is, after all, so much to appreciate in directors Daniel Lindsay and T.J. Martin's film about a North Memphis high school football coach and his hardscrabble Manassas Tigers' 2009 miracle season. The documentary vividly profiles each of its four principal subjects: There is the compassionate and voluble coach Bill Courtney, whose commitment to his players borders on saintly; the troubled Chavis, battling anger issues as he seeks to be a mature team leader; the sweet-tempered O.C., blessed with superior talent but struggling with academics in his quest for a scholarship; and "Money," an honors student and undersized lineman with a never-say-die attitude.
Yet after one has recovered from Undefeated's emotional steamroller, there's still the question of whether another film about an underdog high school sports team in the sticks was needed. This is well-traveled ground, after all, with a steady stream of narrative variations, from Remember the Titans and We Are Marshall to Friday Night Lights and The Blind Side. In terms of structure and sensibilities, Lindsay and Martin don't stray from the template established by those earlier titles, following a rising arc of suspense as the team rallies to win in spite of all the odds. In the case of Undefeated, it's the team's chance to make its first play-offs in Manassas' 110-year history that drives the suspense, both across the entire film and within individual games as the Tigers rack up wins, finding their camaraderie and confidence. Each victory ratchets up the stakes for all involved—Courtney, his players, the filmmakers and the viewers—as the team approaches the season's end. For their part, Lindsay and Martin dial up the suspense expertly through their canny arrangement of interviews, pre-game practices, meetings and the games themselves. As the suspense ebbs and flows, Undefeated, for all its good-heartedness, becomes a masterful exercise in audience manipulation that, along the way, defeats its own message.
Overcoming life circumstances, nurturing dreams and building character are timeless themes, and the sports movie has long been a sturdy conveyor of those themes. But if Undefeated aims to be about how one plays the game—on the field and in life—then it's betrayed by a structure that values winning. By borrowing from the standard "winning season" structure of conventional sports movies, the film distracts its audience with the wrong questions when Courtney's message is not about winning or losing—the game is merely a pretext—but about character and how individuals can overcome harsh life circumstances to find victories within themselves.
In introducing us to Courtney, however, Undefeated finds its voice. The Memphis family man and owner of a lumber business isn't just the team's coach, he's a father figure, mentor and therapist to its troubled players. O.C., Chavis and "Money" are, for all their pluck, still teenagers from broken homes—making them especially difficult and moody. It's a marvel how tirelessly Courtney works to instill character, discipline and selflessness into each of them—to mold these boys into sound human beings. Watching Undefeated, one realizes that it's on the backs of individuals like Courtney that entire communities find their soul, their humanity.
Director: Daniel Lindsay, T.J. Martin
Starring: Bill Courtney, O.C. Brown, Montrail "Money" Brown, Chavis Daniels
Release Date: Feb. 17, 2012