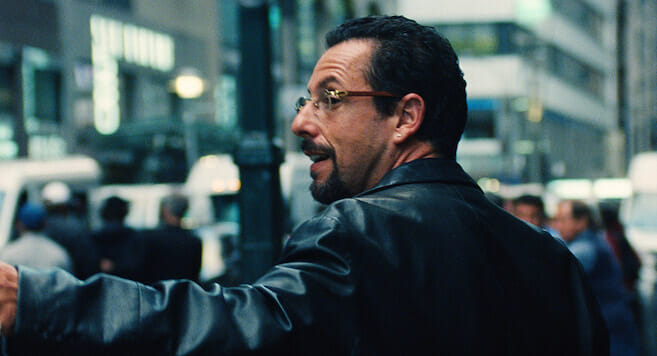 The Safdie brothers (Good Time) are back with Uncut Gems, an "electrifying crime thriller."
Adam Sandler (Grown Ups, 50 First Dates) stars as Howard Ratner, a charismatic New York City jeweler always on the lookout for the next big score. When he makes a series of high-stakes bets that could lead to the windfall of a lifetime, Howard must perform a precarious high-wire act, balancing business, family and encroaching adversaries on all sides, in his relentless pursuit of the ultimate win. Lakeith Stanfield, Julia Fox, Kevin Garnett, Idina Menzel, Eric Bogosian and Judd Hirsch also star.
Indie production powerhouse A24 teased the first trailer for the highly anticipated Toronto International Film Festival favorite in a tweet on Thursday, with a short clip captioned: "09.24.19."
A24 is set to release Uncut Gems in select U.S. theaters Dec. 13 before going wide on Dec. 25, while Netflix will distribute the picture internationally.
Watch the Uncut Gems trailer tease below and check back Tuesday for the full trailer.
09.24.19 pic.twitter.com/qU13nvislf

— A24 (@A24) September 19, 2019