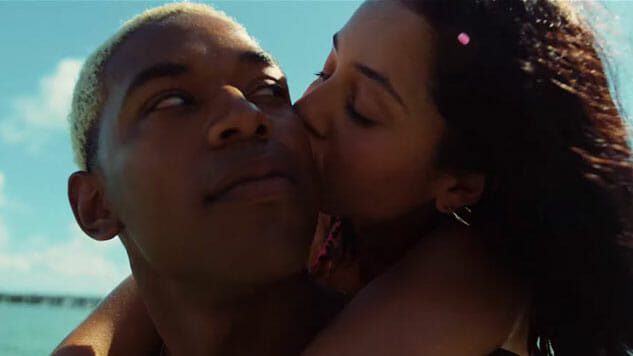 "You gotta take pride in what you do, son," Ronald (Sterling K. Brown) sternly tells Tyler (Kelvin Harrison Jr.). A man of high expectations, Ronald pushes his son to perform—and Tyler doesn't handle those expectations in the best way. Written and directed by Trey Edward Shults, Waves explores grief, trauma and healing as a consequence of a young man snapping under pressure.
On the surface, Tyler has the perfect life: a supportive family, a loving girlfriend, Alexis (Alexa Demie), and a wrestling career that's on track to take him to college. Under the watchful eye of his father, he has a strict exercise regimen. But when he develops an injury, his anxiousness to perform for his father overwhelms him, his accident snowballing into a series of unfortunate events.
The prominent source of Waves's beauty is its stellar cast. Kelvin Harrison Jr. has proven he has a knack for playing off-balance characters since Julius Onah's Luce; as Tyler, he balances rebellion and anxiety with aplomb. It's truly captivating to witness his fast descent into madness while posing as an immovable force to his loved ones. Sterling K. Brown, as the inflexible elder, sparks moments with Tyler that, while well-intentioned, are explosive, fostering a tete-a-tete between father and son that is equally uncomfortable and relatable.
Behind these performances is a solid script from writer/director Trey Edward Shults. This is Shults' third film with A24 and matches the focus on family dynamics in his prior films, Krista and It Comes at Night. Here, he breaks the story into two halves separated by a traumatic event. Truth be told, the "young man spiraling out and destroying everything in his path" is not an unfamiliar story—though Harrison Jr. masterfully carries the first half of the film—but when Waves centers on Tyler's sister Emily (Taylor Russell) in its second half, the family is still reeling from the pivotal tragedy, sparking some intense, emotional scenes between them. In Emily's case, she's confronted with online bullying, which forces her to isolate herself from everyone, but it's the budding relationship between her and Luke (Lucas Hedges) that gradually draws her out, opening her up to heal.
Drew Daniels, a frequent collaborator of Shults's, steeps the director's words in hazy cinematography. With the Florida backdrop and beautiful actors up front, he shoots the film like a series of music videos—sweeping the camera in a circle around Alexis and Tyler in the car, for example, reinforcing the wild adventures these teens are having—uniquely employing various color palettes to orient the audience within the film's halves and emotional poles. Flashing reds and blues invoke a feeling of danger; leveraged as a transition between scenes, a multi-colored lava-lamp-like slow, dripping effect takes over the screen. Never excessive, Daniels' emotional cues add weight to Shults's complex family drama. Frenetic, anxious and visually stunning, the cinematography of Waves invites us to wade into this world, never warning us there's still a chance we could drown.
Director: Trey Edward Shults
Writer: Trey Edward Shults
Starring: Kelvin Harrison, Jr., Sterling K. Brown, Taylor Russell, Alexa Demie, Lucas Hedges
Release Date: November 1, 2019 (screened at the Toronto International Film Festival September 10, 2019)
---
Joi Childs is a brand marketer and film/TV critic. Born and Raised in NYC, she loves writing and talking about the intersection of marketing and nerd-dom. Her work has appeared at The Hollywood Reporter, The Verge, Okayplayer and many other outlets. Follow her on social media to keep up with her great adventures in cinema and more.