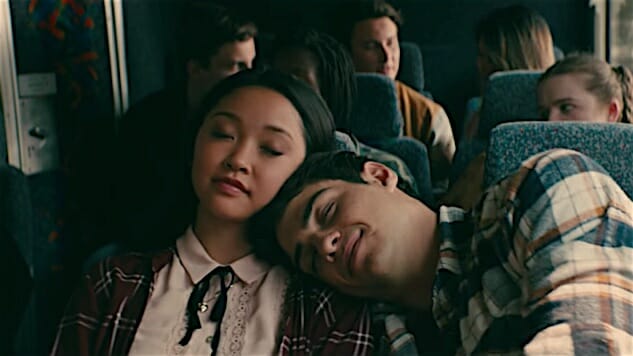 To All the Boys I've Loved Before, the teen scene's newest runaway hit, is a flat-out excellent film.
It is not excellent "for a teen flick." It is not excellent "for a romantic comedy." It is excellent for a film. It is, as I noted in my love letter to it in Paste's TV Power Rankings the week following its triumphant non-theatrical release on Netflix, the kind of film that makes a person want to drop everything and go to film school. Or, at least, drop everything and watch it three time times in one weekend—which, if Twitter is any indication, is what just about every person who has pressed Play since it premiered has done (at minimum—I'm on watch #5).
Adapted from Jenny Han's YA novel of the same title, TATBILB (as its legion of superfans often refer to it) hardly needs championing. In the few weeks the film has been a part of our cultural landscape, TATBILB has received such a wave of love, both emotional and critical, that it appears primed to single-handedly propel the teen rom-com genre into a new golden age. In fact, between it and the other sweet rom-com featuring an Asian-American lead to premiere the same weekend (Constance Wu's theatrically released Crazy Rich Asians), the rom-com seems ready for a resurgence. (The two films landed on the Fandometrics Movies list at #1 and #3 the Monday following their premieres, and have since not budged.)
That said, we live in bruising, cynical times; any opportunity to bend enthusiastically toward joy ought to be seized. So please, I entreat you—pause your nightly stream of Lara Jean Covey and Peter Kavinsky falling in googly-eyed, fake-dating love, and let's explore just how cinematically excellent the journey of their googly-eyed, fake-dating love is.
Act 1: All in Your Feelings
So many romantic comedies hinge on their protagonists engaging in various states of emotional dishonesty for the first eighty minutes of the film, then spending the last twenty learning the life-changing lesson that whoa—it turns out, emotional honesty is … good? This is fine! I've watched 10 Things I Hate about You's Katarina Stratford tearfully recite a poem about the lies she told herself to keep from opening up her heart to all the hunky Australian dudes (and less hunky American sisters) in her life a billion times, and I can still barely manage to tell my best friends that I love them. I am grateful for Kat Stratford's emotionally honest final-act epiphany; I will never stop needing Kat Stratford's emotionally honest final-act epiphany. I just don't need every rom-com to take Kat Stratford(/Shakespeare)'s slow emotional learning curve as a model.
TATBILB fully inverts the 80/20 ratio: Within the first twenty minutes, all five of the deeply private love letters our daydreamy, emotionally buttoned-up protagonist Lara Jean (Lana Condor) has written to her childhood crushes over the years have been stolen and mailed out—including the one to her neighbor and best friend, Josh (Israel Broussard), who just happens to also be her older sister's just barely ex-boyfriend. This swift puncturing of any protracted emotional dishonesty Lara Jean might have hoped to indulge in, well, forever, leaves the film's final eighty minutes free for her to embrace some really radical emotional honesty. That TATBILB allows Lara Jean to accomplish this not in spite of but through the fanfic-favorite trope of "fake dating" another, less-risky letter recipient (Noah Centineo's ridiculously charming Peter Kavinsky) is a story strength. Yes, the fake dating set-up allows Lara Jean to put off the emotionally fraught confrontation with Josh she knows she'll eventually need to have, but the animal instinct to flee from that confrontation is so strong, it propels her (like, physically) into a more intimate, genuinely guileless kind of honesty in every other part of her life—first with Peter, then with newfound confidante Lucas (Trezzo Mahoro), then with Margot and Kitty (Janel Parrish and Anna Cathcart), then (finally) with Josh, then (again, at last, in love) with Peter, but always, every step of the way, with herself.
Kat Stratford's final act emotional epiphany will always be part of the teen rom-com's DNA, but Lara Jean's openness to sustained emotional honesty will forevermore be its wholesome, beating heart.
Act 2: A Class in Chemistry
Of course, all the emotional honesty in the world wouldn't matter if TATBILB's leads didn't burn with chemistry. Sure, chemistry always matters, but in rom-coms it is a true Achilles' heel. A script can be tight, the cinematography and editing top-notch, and the actors all accomplished, only for none of it to matter thanks to a lack of chemistry between the leads.
Fortunately, Lana Condor and Noah Centineo can get it. With each other, as any leads in a rom-com must, but also, in an equally critical way, with every single one of us in the audience. The two of them radiate charisma straight through the screen—Condor through her lively, secrets-spilling face, Centineo through his puckish, secrets-knowing smouldrin (a portmanteau of smoulder and grin I just made up, just for Centineo), and the both of them in the ways they look, just look at one another.
Condor and Centineo are undeniably the stars of the show, but TATBILB doesn't rest on their charismatic laurels: Mahoro as Lucas is a foxy ball of friendliness; Madeleine Arthur as Lara Jean's best (girl) friend, Chris, is just the wide-eyed punk weirdo she needs to be; Janel Parrish plays against type as the sweet and steel-spined Margot; Anna Cathcart steals every scene as Lara Jean's meddling little sis, Kitty; and John Corbett plays the healthily engaged version of Kat Stratford's single OBGYN dad with a discernible glee. (He's got a car full of condoms, and he's not afraid to share them.) The importance of Lara Jean and her sisters being half-Korean, and the majority of the cast (along with Mahoro) non-white, is hard to overstate—AwesomenessTV and Netflix were the only companies willing to bring Jenny Han's heroine into the world as the first Korean-American teen rom-com idol—but it isn't the most impressive thing about the cast by a long shot. In a genre that can so often see its characters lean too far into caricature, Lara Jean's world is instead populated with teens—and through them, love—you can believe in.
Act 3: Aesthetic
The robustness of the TATBILB world goes beyond the core cast's chemistry. Between Lara Jean's covetable indie-girl wardrobe, the soundtrack's never-ending stream of synthy, "the '80s and '90s had a 2018 baby" groove-bops, and the film's overall color palette—a wash of blues, greens, aquamarines and creams cut through with saturated spots of goldenrod, crimson, and all varieties of pink—the whole thing is, as the internet says, a mood.
It is, however, in the cinematography that TATBILB's mood blooms. Unlike chemistry, a romantic comedy can survive without sophisticated cinematography. Clueless has a memorable look, but few memorable shots. A Lot Like Love is a charm fest, but not because of any particularly bold cinematographic choices. When next-level cinematography is added to the rom-com formula, however—think, Amélie—the result can be outstanding. In TATBILB each shot set up by director Susan Johnson and cinematographer Michael Fimognari is composed like a painting. There's the close-up of Lara Jean's writing desk as she pens one of her love letters; the extreme close-up of Lara Jean and Lucas's sneakers on either side of a bathroom stall divider as they talk about the letter he was sent; the high-angle wide shot as Lara Jean races to her closet to find her letter-stashing hatbox missing from its top shelf; the establishing long shot of Lara Jean on the lacrosse field as she steels herself to walk its length to confront Peter and engage his proffered fake-dating services; and another establishing long shot of Lara Jean and Peter again on the lacrosse field, walking hand-in-hand into the sunset. And I'm not talking just any painting—we're talking Old Masters' still life, a natura morta, complete with Caravaggio-esque tenebrism (a.k.a., real sick shadows and even sicker lights heightening emotional tension). I almost feel bad for all the teen rom-coms to come—it's a lot to live up to.
Epilogue: A Genre Firmly Grasped
Ultimately, the fluency with which Johnson, Han, and screenwriter Sofia Alvarez speak "teen rom-com" allows them to take the fizzy conventions of the John Hughes films that Lara Jean loves, mix them all up with the 10 Things I Hate About Yous and the Cluelesses and the She's All Thats that the outfits and soundtrack and PNW setting invoke, and send all their best bits and pieces through a machine that modernizes those elements even as it sweetens them to pure confection (yes, even the conflicts). Lara Jean and Peter get together because of a lie, sure, but their intentions toward each other are never anything but pure, and their reactions when trouble hits, never vicious. This sweetness works because, like Johnson et al., we in the audience know what shape rom-coms have historically taken, and are thus ready and able to have our expectations subverted in the purest of ways.
This, of course, sets another bar for the new Golden Age of the Teen Rom-Com, but future rom-rom filmmakers shouldn't fret—To All the Boys I've Loved Before has left you a cheat sheet. All you need to remember is that we don't need another round of lasciviousness, or selfishness, or petty resentment, or teenage revenge. We just need a wholesome Peter Kavinsky, asking his Lara Jean Covey not to break his heart.
Director: Susan Johnson
Writer: Sofia Alvarez
Starring: Lana Condor, Noah Centineo, Anna Cathcart, Janel Parrish, Israel Broussard, John Corbett
Release Date: August 17, 2018
---
Alexis Gunderson is a TV critic whose writing has appeared on Forever Young Adult, Screener, and Birth.Movies.Death. She'll go ten rounds fighting for teens to be taken seriously as part of critical pop culture. She can be found @AlexisKG.