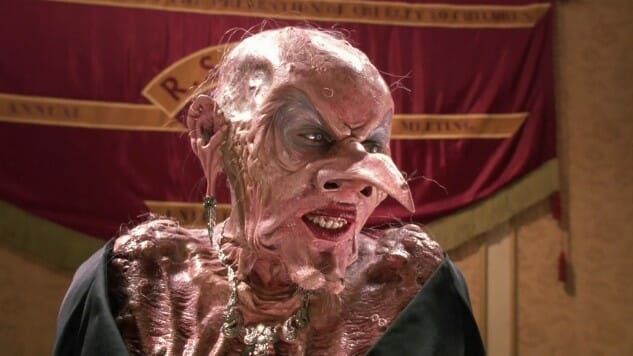 Hollywood has an up-and-down relationship with the works of children's novelist Roald Dahl, when it comes to adaptations. When things work out well, you get Spielberg's 2016 adaptation of The BFG, which featured a charming Mark Rylance as the title character. When things go the opposite way, you're stuck with the poisonous 2005 remake of Charlie and the Chocolate Factory with Johnny Depp, begging to escape from the viewing experience.
Still, a well-adapted children's classic is a potential goldmine, which is no doubt what Warner Bros was thinking when they tapped Robert Zemeckis to helm their new adaptation of The Witches, according to a story in Variety.
The film, which had been in the planning stages for a while, was originally attached to Guillermo del Toro as a director, but all cinema fans know that a del Toro-helmed project always has about a 25 percent chance of ever coming to fruition. Hence, the replacement of Zemeckis, an eclectic and prolific Hollywood veteran who knows how to get things done. Del Toro, joined by Alfonso Cuaron, will meanwhile serve as producers. Zemeckis is expected to write the film's script with his partner Jack Rapke.
The Witches is a particularly unique work in the Roald Dahl canon, as far as adaptations are concerned. One immediately wonders about the rating—despite being famous as a "children's author," The Witches is one of Dahl's darkest and most violent books, being literally filled with child deaths at the hands of evil witches. A PG-13 rating could be necessary to really bring the gruesome nature of the witches to life, which was captured fairly well in the film's previous 1990 version, which starred Anjelica Huston as primary antagonist The Grand High Witch. At the very least, we hope Zemeckis won't tone down the darker side of Dahl's material, who passed away shortly after the original film's release in 1990. According to Variety, this version will be "more rooted in the original source material," so that sounds like a good sign.
In recent years, Zemeckis, the director of such classics as Back to the Future and Who Framed Roger Rabbit?, has largely been producing dramas for adults such as Flight, Allied and the upcoming Welcome to Marwen starring Steve Carrell, which opens on Nov. 21, 2018. The Witches, meanwhile, seems like more of a return to that Who Framed Roger Rabbit? era, combining both humor and a touch of the macabre. Here's hoping that Zemeckis is the perfect guy for the job.
We'll have more information on this new adaptation of The Witches as it develops.