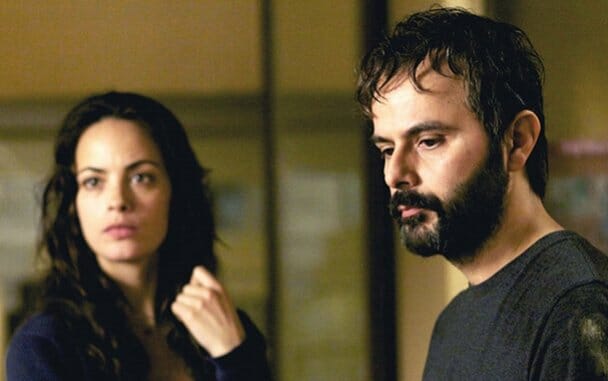 In his latest film The Past (originally titled Le passé), writer-director Asghar Farhadi returns to familiar territory he explored in his 2011 Academy Award-winning film A Separation, proving once again that the messiness of divorce and the murkiness of relationships transcend cultural boundaries.
After four years away, Ahmad (Ali Mosaffa) returns to Paris from Tehran to finalize his divorce from wife Marie (Bérénice Bejo) so she can marry her new boyfriend, Samir (Tahar Rahim). The visit to Marie's house proves to be a tense one, for obvious reasons. Samir and his son Fouad (Elyes Aguis) live part-time with Marie and her two daughters from another relationship, and Ahmad is the odd man out among this blended family. The sleeping arrangements are more than a little awkward as Ahmad's forced to share a room with the young boy during his first night back in Paris.
As the visit continues, Marie asks Ahmad to talk to her teenage daughter, Lucie (Pauline Burlet), about what might be troubling her and causing a rift in their mother-daughter relationship. Although reluctant, Ahmad agrees since he considers Lucie more a daughter than stepdaughter. We assume that Lucie's hostility toward her mother stems from her disdain for Samir, but as Ahmad tries to broker a détente between mother and daughter, he uncovers a secret that can level the family's already unsteady foundation.
Farhadi sets the film in the nondescript suburbs of Paris, making the locale as un-romanticized as possible—in one of the world's most romantic cities. It's one of several contradictions that the director slowly reveals throughout the film. (We didn't think it was possible to turn The Artist's stunning Bejo into a frumpy, stressed-out mother, but he did that, too.) Complicating Samir's and Marie's future even further is that Samir's wife is in a coma, although early in the film it's unclear whether or not she's already dead. The facts are sometimes evasive in The Past.
Farhadi never paints a full picture for the audience, which only further emphasizes the film's themes of doubt and uncertainty. The reasons why Ahmad left his family aren't explained, and likewise, the story of the relationship between Samir and his wife remains opaque. As in A Separation, the truth proves subjective—details are lost and sometimes change with every passing moment.
Though not a French speaker, Farhadi extracts emotionally telling performances from each of his leads, including Iranian actor Mosaffa, who learned French for the role. Rahim's countenance as Samir reflects a man weighed down by sadness and guilt. Paralyzed with indecision, he's struggling to leave his past in the past and create a new life with Marie. Unlike Samir, his young, sometimes emotionally troubled, son Fouad—played by the precocious Aguis—is certain about his own future. He'd rather stay with Marie and her children than return home with his father to visit his mother: Fouad admits that his mother frightens him.
Each of the film's other characters also face two options, with the women proving more decisive in their actions than the men. Marie has made her choice to move on from Ahmad to start a new family with Samir. Lucie, whose secret is pivotal to moving the plot forward, has to choose between revealing it to her mother or keeping it to herself. Mosaffa's Ahmad remains the standoffish outsider; he would be perfectly fine keeping the status quo. He's only forced to finalize the divorce and return to Paris at Marie's behest.
There are no good guys or bad guys in the film—just real people with real flaws. The Past is a great exploration of conflicts that stem from past and present relationships. But it's not until Marie learns of her daughter's secret that Bejo is allowed to unleash the anger, frustration and hurt onscreen. It's a gut-wrenching scene that epitomizes why Bejo earned the Best Actress nod at Cannes. Those impassioned moments, however, are far between, as Farhadi's meticulous pacing tends to weigh down a film already burdened with emotional heft. While it has already earned a Golden Globe nod for Best Foreign Film (and a sure thing for other award nominations this season), our only complaint is that The Past seemingly could have been told in less time than the present two-hour, 10-minute running time.
Director: Asghar Farhadi
Writer: Asghar Farhadi
Starring: Tahar Rahim, Bérénice Bejo, Ali Mosaffa
Release Date: Dec. 20, 2013