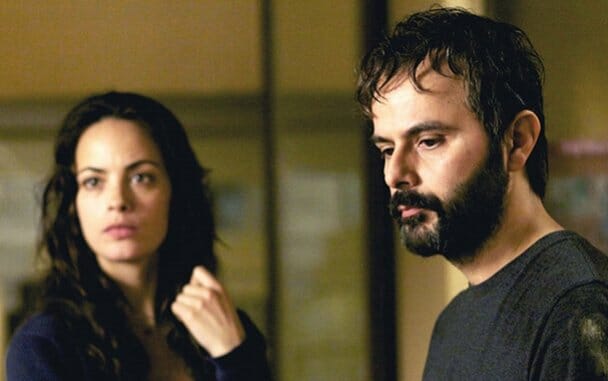 One of the constant challenges for screenwriters is trying to condense the complexity of human beings into an accessible feature-length presentation. In real life, it can take months—maybe years, maybe never—to fully understand another person. (And that's if we're lucky enough to even figure out ourselves.) Iranian writer-director Asghar Farhadi is restrained by the same obstacles that other filmmakers are, but somehow he seems capable of developing incredibly complex and nuanced characters. They're layers upon layers, contradictory and mysterious, still revealing things about themselves even once we think we have a bead on them.
Farhadi's new film, his sixth as a director, is The Past. Like his previous offering, the Oscar-winning A Separation, it concerns romantic relationships, family, and the maddening inability to get a handle on the people around you. And once again, he is incredibly fair and generous to all his characters. Maybe a bit to a fault.
The film opens with Marie (Bérénice Bejo) picking Ahmad (Ali Mosaffa) at the airport in Paris. It's not a happy reunion: After four years away in Tehran, Ahmad has been summoned by his soon-to-be ex-wife to sign the paperwork that will finalize their divorce. In his absence, life has moved forward. Her two children (Lucie, played by Pauline Burlet, and Léa, played by Jeanne Jestin) from a previous relationship are growing up and, more importantly, there's a new man in Marie's orbit. An owner of a dry-cleaning business, Samir (Tahar Rahim) and his son Fouad (Elyes Aguis) are living with Marie, an awkward situation for Ahmad, who feels himself being drawn back into the swirl of her world.
We're in the territory of domestic melodrama, and The Past (as its title suggests) is fixated on the unresolved issues almost all the characters are feeling, emotional baggage that has built up over time. The main concern is the matter of Samir's wife, who's been in a coma for several months, her chances for recovery becoming less likely with each passing day. Samir and Marie want to marry, but the matter of his previous marriage is especially bothersome to Lucie, who has been harboring resentments toward Samir since he first entered her mom's life. (If anything, she's closer to her stepfather Ahmad, their time apart doing nothing to sever their strong bond.)
The Past has all the strengths of a good play—incisive dialogue, effortlessly natural performances, close-quarters intimacy, and a rich sense of themes and intent—so it's little wonder that Farhadi's background is that of a playwright. The movie is less a romantic triangle than it is an emotionally complicated dance between three adults who are tied together because of previous or current romantic pairings.
From the start, none of these three characters are easy to peg. Ahmad seems to hold some small lingering stirrings of passion for Marie, but any annoyance or agony he might feel for being forced back to Paris by his ex soon burns away once he recognizes the tension between Marie and Lucie, who insists that he should talk her out of this new marriage. (Conversely, Marie wants Ahmad to convince Lucie to support her relationship with Samir.)
But how should Ahmad feel about Samir? Their connection seems fraught with strain, but is that because of the resistance they're picking up on from their children? (Aside from Lucie's misgivings, Fouad resents that Marie treats him as if she's his mother.) Or, as Lucie suggests, is Marie merely trying to find a replacement for Ahmad? (The two men do share certain facial similarities, a worry that appears to have popped into Samir's mind as well.) Or is Marie, who's had a history of failed relationships, trying to get a fresh start with Samir?
The movie is rife with such thoughtful character questions, and at 130 minutes The Past explores these and other matters with a quiet force that's rarely hyperbolic but always confidently executed. As like in some theater work, this film contains grave secrets that are eventually going to come spilling out—quite a few, actually—and Farhadi and his editor Juliette Welfling do superb work pacing this deliberate but absorbing tale. These characters talk and talk, but the conversations always take us in new directions, distorting previous impressions of these people and offering a stronger sense of the private pains each one is bearing.
Amongst a strong cast, the real revelation is Bejo. Probably best known as the charming love interest in The Artist, she does a wonderful job initially of concealing the depth of Marie's torment and demons. Though a beautiful woman, Marie has real steeliness as well, and one only slowly comes to understand what in her life has made her acquire such toughness and a talent for self-preservation. Rahim, excellent in A Prophet, again plays a rough-around-the-edges man whose soulful eyes don't entirely distract from a feeling that he can't be fully trusted. And Mosaffa may have the most difficult role of all as Ahmad, someone who has been thrust back into a hothouse where he must play the mediator between several different warring parties, to say nothing of coping with his own complicated feelings about seeing Marie and her children again after so long.
If there's a complaint to be made—churlish as it may seem—it's that Farhadi's intricate, measured screenplay may be a little too perfectly constructed. Especially in its final third, as secrets and twists are revealed, The Past works so hard to make almost every character, even ones not mentioned in this review, three-dimensional that the film can feel orchestrated rather than organic. Farhadi wants to demonstrate that none of us are without major flaws and that the best we can hope to do is forgive our past failings in order to grow. But these ideas, which pulsate throughout the film with elegance, become somewhat didactic near the end. It may be a minor reservation, but for a film this delicately conceived, each subtle nuance is infinitely more crucial. And since The Past preaches the importance of being truthful with those around us, it's a minor reservation that deserves to be expressed.
Director: Asghar Farhadi
Writers: Asghar Farhadi
Starring: Bérénice Bejo, Tahar Rahim, Ali Mosaffa, Pauline Burlet, Elyes Aguis, Jeanne Jestin
Release Date: Screening in the Official Competition at the 2013 Cannes Film Festival