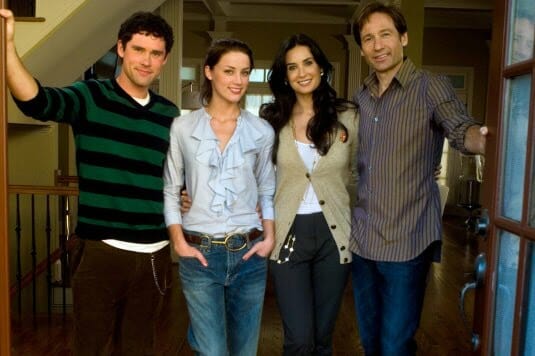 Director/Writer: Derrick Borte
Cinematographer: Yaron Orbach
Starring: David Duchovny, Demi Moore, Amber Heard
Studio/Run Time: Roadside Attractions, 93 min.
Anti-consumerist satire packs big value
With The Joneses, first-time director Derrick Borte covers the same anti-materialist turf as Michael Moore and Chuck Palahniuk before him. But while his intentions may be derivative, his premise—a family of vapid commercial models is planted in a McMansion commune—somehow feels original. Think of it as an inverted Truman Show, with David Duchovny and Demi Moore as yuppified secret salesmen hawking an idealized suburban lifestyle while incognito. And like the brilliant Truman, Borte knows when to stop preaching and tell a compelling story. Underneath the Joneses' Teflon veneers lay the repressed, three-dimensional personas of people with very unmarketable flaws. And when these fragile humanisms begin to leak (and eventually flood), Borte really shines. DeVotchKa frontman Nick Urata's bittersweet score makes this snappy parable an even better deal.