Jared Leto's Joker Is Getting His Own Movie
Leto will star in and executive produce the Suicide Squad spinoff
Image via Warner Bros. Pictures/YouTube
Movies
News
The Joker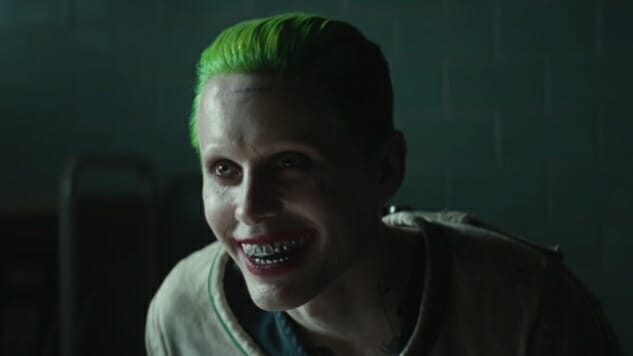 At this point, "new Joker movie" is essentially a news category unto itself, and we have a relatively large one for you this Tuesday evening: Jared Leto's Joker, of Suicide Squad infamy, is officially getting his own movie, as Variety first reported. Leto will star in and executive produce the currently untitled standalone film, one of Warner Bros.' first Suicide Squad spinoffs. (The Joker: A Suicide Squad Story, anyone?) THR confirms the film's existence, stressing, however, that the project is still in the early stages of development. Plot details are currently as hard to come by as Batman when you turn your back on him mid-conversation.
Leto's Joker had a distinct whiff of Hot Topic silliness about him (namely thanks to that "Damaged" face tattoo), which earned the character and his 2016 movie quite a bit of mockery, but many viewers walked out of Suicide Squad wanting more of his intriguing take on the Clown Prince of Crime, who, per a helpful Redditor, appeared in only about seven of the film's 123 minutes. The Oscar-winning Dallas Buyers Club actor should have plenty more scenery to chew in his standalone, assuming it comes to fruition, especially since the project has nothing to do with the Mad Libs-like, untitled Joker origin film from director Todd Phillips, producer Martin Scorsese and possible star Joaquin Phoenix. It's also unrelated to the Joker and Harley Quinn love story, the Cathy Yan-helmed Harley Quinn spinoff or that all-female DC villains film, Gotham City Sirens, because Warner Bros.' DC universe is nothing if not redundant.
Though David Ayer's Suicide Squad was critically panned pretty much across the board, with a 27 percent Rotten Tomatoes score to show for it, the DC villains film did manage to win an Oscar for its makeup and hairstyling, and it grossed more than $746 million worldwide against a production budget of $175 million, per Box Office Mojo. Between those big wins and the Joker's abundant pop-cultural cachet—which, we'd argue, is at high tide nowadays almost entirely because of Heath Ledger's impeccable take on the iconic character in Christopher Nolan's The Dark Knight—why shouldn't Warner Bros. take a crack at a Suicide Squad cinematic universe?
It's currently unclear when cameras will roll on Leto's Joker standalone, as the star and studio are now in search of a screenwriter. It's also unclear when the film will shoot relative to the Suicide Squad sequel, which, last we heard, will be directed by The Accountant's Gavin O'Connor. That film is expected to start production sometime next year—hopefully, we'll know much more about The Joker: A Suicide Squad Story by then.