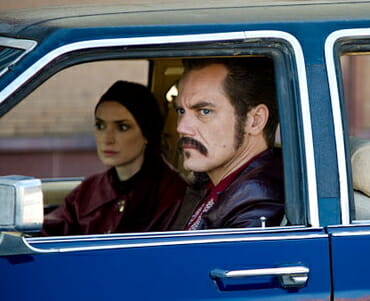 Ariel Vromen's The Iceman is inspired by real events in the life of Richard Kuklinski, a hitman convicted in 1988 for killing 100 men in the New York area during a 20-year period. While shocking, the murders are not the most surprising part of the story. Kuklinski perfected the art of compartmentalizing: His double life was so meticulously hidden that his wife and daughters had no idea about his real profession until his arrest.
Michael Shannon—with a hardened jaw and those slightly askew, unnerving eyes—plays the titular role. His Kuklinski is a man of few words, but his on-screen presence is commanding as the robotic and detached contract killer. There's anger seething beneath the surface, leaving the audience wondering when Kuklinski will snap. (The Boardwalk Empire actor's on a roll lately, with a small role in Mud and a much larger part as General Zod in the upcoming Man of Steel. Last week, his Funny or Die video of a dramatic reading of an "Insane Sorority Letter" had the web abuzz.)
The Iceman opens in 1964 with Kuklinski on an awkward first date with Deborah (Winona Ryder), the woman who will ultimately become his wife. Already pre-disposed to violent tendencies, we watch as he later silently slits a man's throat for insulting Deborah's choice to abstain from sex until marriage.
Fast-forward a few years, and Kuklinski supports his wife and young baby by dubbing porn films for distribution by the Mafia. (He tells his wife that he works in animation.) One night, mob boss Roy Demeo (Ray Liotta) and henchmen show up at the film facility to exact punishment on "the Pole" for being late with a shipment (never mind that they changed the deadline at the last minute). They find that The Iceman is not easily intimidated.
Kuklinski's cold and unflinching demeanor impresses Demeo, who hires him as his personal contact killer (after a test run murder, of course). The extra money comes in handy for Richard and Deborah, who are expecting their second child. They move to the suburbs, replete with private schools, better wardrobes, and Deborah believing that her Richie has landed a Wall Street job.
Life is good both personally and professionally for Kuklinski in the '70s. He meets another hitman, Mr. Freezy (an almost unrecognizable Chris Evans), when they realize that Demeo has assigned them to the same hit (James Franco, in a small role). Kuklinski and Mr. Freezy decide they can't trust Demeo, so the two team up for more effective, efficient and lucrative murders. The scenes in which Shannon and Evans are either killing or dismembering bodies while engaging in small talk are both nonchalant and macabre. It's just another day at the office for those two (except the bloodletting is literal).
In too brief a glimpse into Kuklinski's past, we learn that both he and his brother Joey were beaten by their father. Joey is currently in prison for killing a young girl—which breaks Kuklinski's golden rule of "no women, no children." During a prison visit, Richard tells his brother never to contact him again, and Joey mocks Richard's belief that that his make-believe life will last.
It doesn't. Things begin to crumble in the '80s, with Demeo and other mob bosses handling their hits internally. Kuklinski becomes more paranoid as the money dries up and he struggles to keep his house of lies from falling down.
Vromen has crafted a period piece that subtly traverses three decades. His testosterone-heavy cast includes notable actors in small roles, from David Schwimmer as a whiny two-bit Demeo henchman to Stephen Dorff as Joey and Robert Davi as a rival mob man. While Liotta is a natural fit as a mobster (he picks right up where Goodfellas left off), it's Evans' turn as Mr. Freezy that's surprisingly good—and about as far a role from Captain America as one can imagine.
While we welcome Winona Ryder back to the screen in a larger role, her fragile, subservient wife is frustrating to watch. Ryder's character is so clueless: How could she not possibly know about her husband's job? Why did she not press further when someone let slip that Richard worked in porn and not animation? Was she truly that blind or did she unwittingly ignore the truth, sensing her husband's darker side? Deborah and her daughters are key to the twist in Kuklinski's story, but their characters seem the least developed. It's an important perspective that The Iceman never addresses.
Despite the film's flaws, it's Shannon's take on Richard Kuklinski's duality—as a brutal, amoral killer who insists on sending his two girls to Catholic school—that's most fascinating to watch. It's a performance that elevates The Iceman above typical mobster fare.
Director: Ariel Vromen
Writers: Morgan Land, Ariel Vromen (screenplay); Anthony Bruno (book); James Thebaut (documentary)
Starring: Michael Shannon, Winona Ryder, Ray Liotta, Chris Evans, David Schwimmer, Robert Davi, Danny Abeckaser, James Franco
Release Date: May 3, 2013