This Just in: The First Trailer for Wes Anderson's The French Dispatch
Plus a smattering of first-look photos
Images courtesy of Searchlight Pictures
Movies
News
The French Dispatch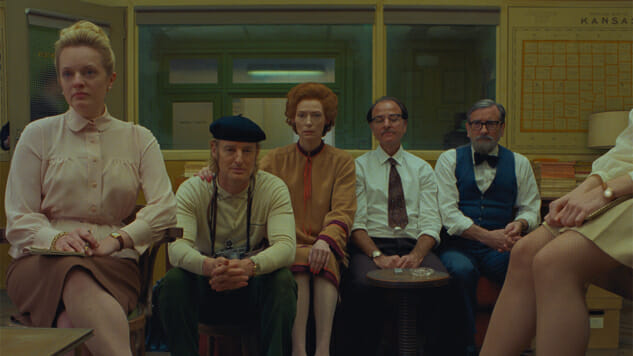 Wednesday morning, as promised, Searchlight Pictures issued the first trailer for Wes Anderson's 10th film, The French Dispatch, as well as a variety of first-look photos.
Anderson's latest—the alternate title of which is The French Dispatch of the Liberty, Kansas Evening Sun—appears to center on Bill Murray's Arthur Howitzer Jr., the founder of the film's titular publication. The French Dispatch's stories make up three distinct vignettes within the film, which are rendered in black-and-white.
The trailer certainly smacks of Anderson's singular style, from its deadpan humor to its carefully curated tableaus, but most striking of all is the sheer amount of star power on display. The French Dispatch's cast is stacked even by this director's standards, including both Anderson regulars and newcomers to his milieu:
Benicio del Toro, Adrien Brody, Tilda Swinton, Léa Seydoux, Frances McDormand, Timothée Chalamet, Lyna Khoudri, Jeffrey Wright, Mathieu Amalric, Stephen Park, Bill Murray, Owen Wilson, Liev Schreiber, Willem Dafoe, Christoph Waltz, Tony Revolori, Rupert Friend, Anjelica Huston, Henry Winkler, Saoirse Ronan, Edward Norton, Cécile De France, Griffin Dunne, Elisabeth Moss, Fisher Stevens, Jason Schwartzman, Lois Smith, Bob Balaban, Guillaume Gallienne, Hippolyte Girardot, Wally Wolodarsky and Pablo Pauly.
The French Dispatch comes to theaters this summer, on July 24. See the film's trailer and first-look photos below, and brush up on everything we know about the film so far here.