Watch T.J. Miller Parasail Into Cannes, Somewhat Desperately Promoting The Emoji Movie
Image via Sony Pictures Animation
Movies
Video
The Emoji Movie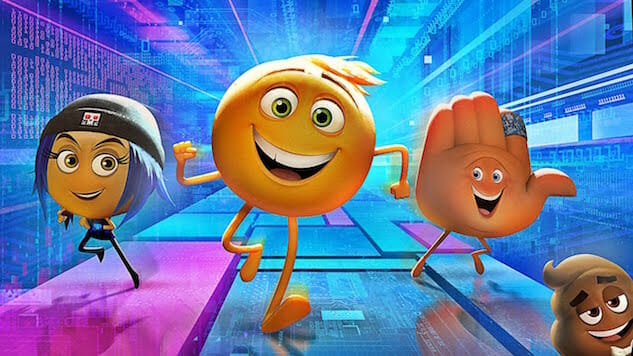 Sony's forthcoming The Emoji Movie is a film desperately trying to justify its existence. Since they're unwilling to just flat-out say the movie is a simple cash grab, Sony has turned to other methods.
The flick's most recent promotional stunt was performed today by Emoji star T.J. Miller, when he parasailed into the prestigious Cannes Film Festival in a garish, yellow suit. Miller's adventure begins somewhere along the Cote d'Azur and concludes on an emoji-themed pier in front of the historic Carlton Hotel.
The stunt was originally live-streamed for fans not rich or cultured enough to attend the French festival. The hijinks really don't begin until about the 4:25 mark, when Miller begins to narrate his experience and explain why he's strapped to a massive, yellow parachute 50 feet in the air. After about 40 seconds, Miller manages to flip forward and he begins a hilarious—and possibly authentic—panic as he realizes he may not be able to flip himself back upright before he dips into the water.
Other highlights include the introduction of the film's characters by a heavily accented Frenchman about nine minutes into the live stream. We can only imagine the eternal shame of being forced to excitedly introduce such thrilling film characters such as Pizza, Doughnut and Lips. The stunt concludes with a brief interview of Miller and a showing of the brand-new official The Emoji Movie trailer. The announcer gives it his all through each segment, though we wonder if his pronunciations—paired with his undying enthusiasm—will be remembered as more entertaining than the actual film itself.
Only time will tell. To tide you over until July 28, check out the official trailer below, and revisit the first teaser here. It definitely appears to be a film of some kind.