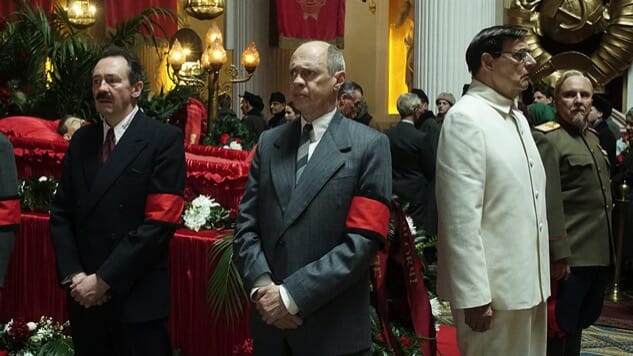 Russia, 1953: Stalin is dead, and his entire team wants to grab his power for themselves. But what sounds like the set-up for a taut political thriller is, in fact, for a total farce, coming to us from none other than political satire virtuoso and Veep creator Armando Iannucci.
The Emmy-winning, Oscar-nominated writer/director's second feature film, The Death Of Stalin, looks to recreate Veep's biting, satirical magic with a sprawling ensemble cast that includes Jeffrey Tambor, Steve Buscemi, Simon Russell Beale, Paddy Considine, Rupert Friend, Jason Isaacs, Michael Palin and Andrea Riseborough. Iannucci wrote and directed the film, which was inspired by Fabien Nury and Thierry Robin's graphic novel of the same name.
The Death Of Stalin will screen at the Toronto International Film Festival in September before hitting U.K. cinemas on Oct. 20 and U.S. theaters via IFC Films sometime this fall. Watch the first trailer above.