New The Dark Tower Trailer Shows off the Visual Effects That Delayed Post-Production
Photo by Ilze Kitshoff/Sony Pictures
Movies
Video
The Dark Tower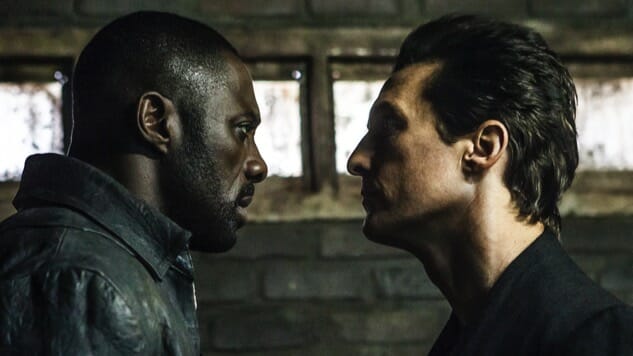 After a lengthy production period and a post-production resulting in months of delays, the movie adaption of Stephen King's original series of novels will finally premiere on Aug. 4. According to sources, the movie was pushed back from its original Feb. 17 release to allow the post-production team time to complete the visual effects, as well as to thoroughly promote the movie ahead of time. The fruits of their labor can be seen in the second full-length trailer released today, full of otherworldly settings and magic the initial trailer only hinted at.
In the trailer above, fans see a shot of Algul Siento, known as "Blue Heaven," where the Man in Black (Matthew McConaughey) enslaves psychics to constantly attack the mythical tower that binds space and time together. The Man in Black also attacks the tower by destroying worlds one at a time, slowly tearing it down with each apocalypse. In the film Earth is next on The Man in Black's list, but gunslinger Roland (Idris Elba) is right behind him, trying to save roughly 7.3 billion people.
In addition to ravaged landscapes, the trailer shows more of The Man in Black, and Roland's lethal magic and machinery. Jake, the boy who assists the gunslinger on Earth seen in the first trailer, is only shown briefly being saved by Roland here. Thankfully the film's pushed back release date means more promotion and hopefully a better opening weekend in August. It also means more time to pair the movie with the forthcoming television series.