Behold, The First Footage from The Dark Tower
The first trailer is coming tomorrow
Photo by Ilze Kitshoff/Sony Pictures
Movies
News
The Dark Tower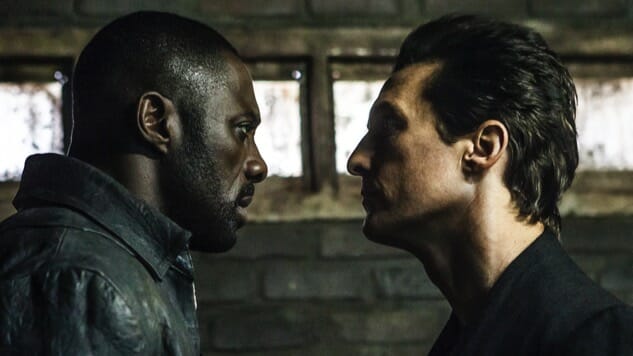 After 10 years of production ins-and-outs, we finally have a look at the first footage from The Dark Tower before the trailer releases tomorrow. And, of course, we have no one else to thank but the stars themselves, Idris Elba and Matthew McConaughey, for a Twitter exchange wherein they shared not one, but two teasers for the forthcoming film.
In the first, McConaughey's Man in Black walks across a snowy field littered with corpses, saying, "The war is over. You know it's coming. The tower will fall." And the second teaser is focused on Elba's Roland Deschain saying, "I do not kill with my gun. I kill with my heart," while stylishly loading his revolvers in mid-air. It's beautiful. The Dark Tower follows Deschain, or The Gunslinger, as he searches for the Dark Tower in the hope that it will save his dying world.
The Dark Tower hits theaters on Aug. 4, which comes 35 years after Stephen King's book, The Gunslinger, and it's super exciting. It's almost like it's not even real, and believe us, we've been pinching the shit out of ourselves. And the fact that we get a full trailer tomorrow is unbearably exciting. Check out the teasers embedded below, and find their whole exchange here.
@idriselba I know this. Deal with it. #DarkTowerMoviepic.twitter.com/NdDw4qtD0w

— Matthew McConaughey (@McConaughey) May 2, 2017
@McConaughey I deal in lead. #DarkTowerMoviepic.twitter.com/IvpjVKFHCH

— Idris Elba (@idriselba) May 2, 2017