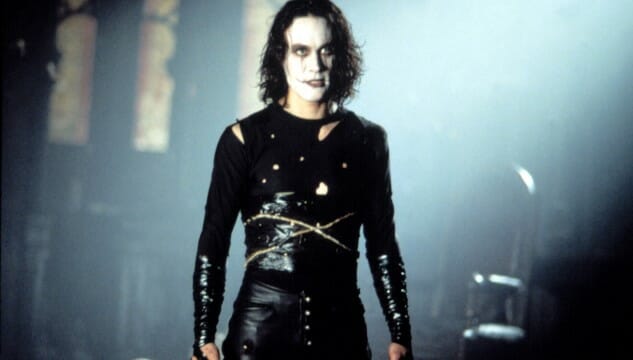 It's hard not to feel a little bit of unease and mystique when it comes to film adaptations of The Crow. After the on-set death of star Brandon Lee during the filming of the 1994 original, which went on to become a cult classic, studios were loathe to spring for a remake, even in a time when seemingly every '90s property is being rebooted. When it finally did take form, it was with Relativity Media, who tapped director Corin Hardy—primarily known for the nifty U.K. horror film The Hallow—to lead, but the director left after "creative and financial turbulence within Relativity." That same turbulence was proven to have substance when Relativity declared bankruptcy, leaving The Crow remake in limbo.
That is, until it was acquired by Davis Films, who were able to lure Hardy back as director by promising the right star for the job—Jason Momoa of Game of Thrones and Aquaman fame. THAT version of The Crow was meant to start official production within the next five weeks in Budapest, and is currently in full pre-production … but hold on. Once again, it seems like The Crow may be dead in the water, after reports from Deadline this morning have made the claim that both Momoa and Hardy have once again exited the project. For Hardy, that means he possesses the dubious honor of having quit the same film, twice.
According to Deadline reporter Mike Fleming Jr., "Sources tell me Jason Momoa and director Corin Hardy formally withdrew from the film this morning. This after Sony was close to exiting as the film's worldwide distributor. I'm told this has to do with creative and financial differences with Samuel Hadida, whose Davis Films holds underlying rights and who was financing the film."
There's those "creative and financial differences" again. Fleming says his sources told him that "Hadida's inability to close a deal with Sony left the studio in exit mode, and that directly precipitated the exits of the filmmaker and star."
Suffice to say, this looks pretty bad for fans of The Crow, a supernatural revenge story about a rock musician who returns from the dead to avenge the murder of his fiance. Although we can kinda-sorta imagine that kind of story being told with Momoa as a lead, it's hard to not get the feeling that the internet would hardly have been receptive to the rehash of the old Crow story anyway.
Hardy, meanwhile, has The Conjuring spinoff The Nun on the horizon as his next directed project, while Momoa's leading man abilities will be put through a strenuous test by the Dec. 21, 2018 release of Aquaman in the ill-fated DC Cinematic Universe. Here's hoping things work out better for him than they did for poor Khal Drogo.