The Butthole of the Joke
Paste visited the NerdMelt to check out Theresa Guleserian's "portal" art, featured in The Overnight.
Movies
Features
Patrick Brice'sThe Overnight starts simply enough, with two families getting together—the adults having dinner and the kids having a playdate. But then the young ones are put to bed, and things get a little freaky.
As the couples (Jason Schwartzman and Judith Godrèche; Adam Scott and Taylor Schilling) begin to open up, they bare their souls to one another—and much more. In one of the film's more memorable scenes, Schwartzman's Kurt, who fancies himself an artist, gives Alex (Scott) a tour of his studio, which Alex discovers is a room filled with Kurt's "portal" works: sketches, drawings and paintings on canvas dedicated to the…butthole.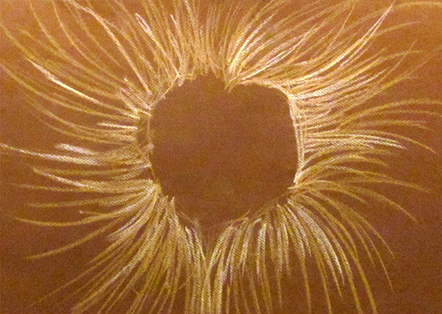 In an only-in-Hollywood meta-moment, the "portal" series recently got its chance to shine with an actual, in-real-life gallery debut. Dozens of guests crowded inside the NerdMelt Showroom, a small theater located in the back of Meltdown Comics, one of L.A.'s most popular comic book shops, to celebrate The Overnight's on-demand (Sept. 8) and DVD release (Sept. 15). In attendance to support the show were writer/director Brice, as well as Adam Scott and his wife Naomi Scott, who both served as producers on the film.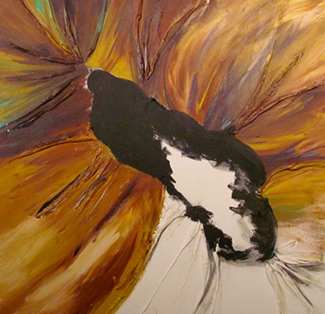 Unfortunately, the mind behind the anal art, production designer Theresa Guleserian, wasn't able to attend the opening. Guleserian, who's also currently attached to Togetherness on HBO, was working on location in Atlanta on Neighbors 2: Sorority Rising.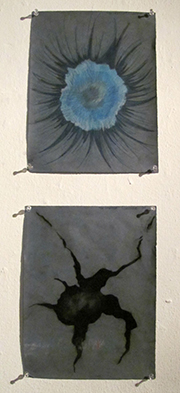 During the gallery show, Naomi praised Guleserian's Herculean efforts to create all of Kurt's paintings for their compact 12-day filming schedule. "Theresa, on her own, painted these paintings in one night to accommodate our shoot schedule," she said. "She thought she had some extra hands to help her out, and unfortunately it fell through, so she was on her own to do all of this."
When we got a chance to talk to catch up by phone with Guleserian after the gallery show, she confirmed that she created 38 paintings and chalk drawings in one night. "It's crazy, but true," she said. "I was still doing the first season of Togetherness while we were prepping this movie." (Mark Duplass is an executive producer on both the HBO show and The Overnight, even starring in Brice's second movie to come out this year, Creep.) "It all happened very quickly. I think I had one week of proper prep, and we had a house to fill."
Guleserian, who studied traditional animation at Columbia College in Chicago before getting a Master's degree in Production Design at the American Film Institute, called in a friend to help her for an hour in order to churn out filler sketches and anatomical figure drawings during her cram session. The friend's name? Caroline Butin. "Appropriate," Guleserian deadpanned.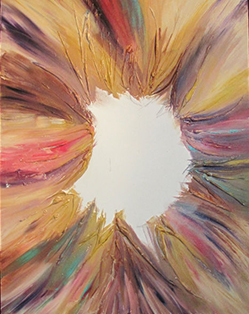 The Overnight's show, which incorporated Butin's drawings too, featured more than a dozen works from the film, marking the first time they've been on view together since the film was shot in 2014. Naomi Scott commented that her favorite butthole painting was featured in the scene in which Kurt tells Alex he'll give his new friend $50 if he can guess which asshole is his. "It's also mine," Scott said matter-of-factly as she pointed to the painting on the wall. [A beat passes.] "I own it," she laughed. "Let's clarify…I did not pose for any of the paintings for Theresa. I meant I own the painting."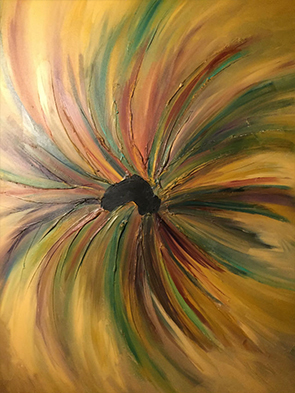 So then what was the inspiration for, and the research needed to create, the variety of canvases? "I did a lot of Googling," Guleserian explained. "I had to turn to animal buttholes instead of human ones because it was so disturbing. People oddly take a lot of pictures of their cats' and dogs' butts, which wound up being very, very helpful for me."
Of her work's (maybe) obvious allusion to some of Georgia O'Keefe's abstracts, Guleserian said, "I can absolutely see it after the fact. I honestly wasn't thinking about that because I was just moving so quickly.
"It's the nicest thing anyone could say to me about a bunch of butthole paintings that I had to do overnight, so I'll take it."
---
Christine N. Ziemba is a Los Angeles-based freelance pop culture writer and regular contributor to Paste. You can follow her on Twitter.