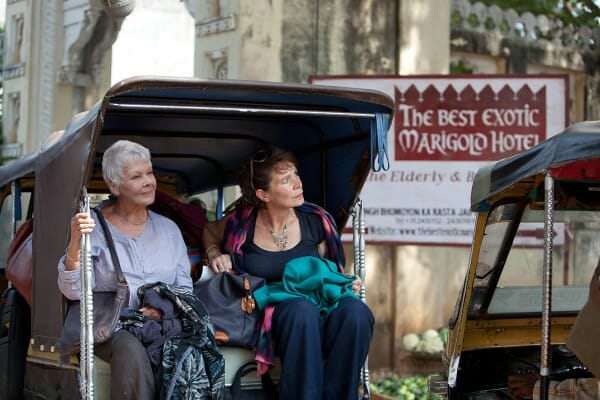 How wonderful it would be if a movie could get by on fleeting charm alone. The Best Exotic Marigold Hotel is pleasant to look at and pleasantly acted, but its filmmakers were content to coast on a stellar cast and an assortment of imminently photographable locations in urban India. Not even the combined forces of England's best veteran actors can hoist it above its lethargic funk.
Director John Madden (Shakespeare in Love) has attempted to combine zingy humor and emotional drama to create an ensemble study of people who are entering the later stages of their lives. But as it cuts between its different story lines, it feels as if it's switching screenplays. Ol Parker is the only credited screenwriter, so there's no point in speculating about additional authors and their contributions, but at least one plot line is so awful that it could have been written by a computer that scanned 500 romantic comedy screenplays and picked out the most common dialogue.
The film weaves through the intersecting lives of several English retirees who arrive and live at The Best Exotic Marigold Hotel for the Elderly and Beautiful. They were lured there on the promise of a cheap residence, an exotic location and paid travel expenses. But the idyllic hotel turns out to be a rundown old building operated by a single plucky young man named Sonny (Dev Patel). We then follow the characters as they adjust to their foreign environment and, in most cases, fall in love with it.
The film begins spryly enough. The opening sequence peeks in on short interludes from each of the characters' lives in England to show what brings them to India. The most poignant scene features Judi Dench as Evelyn, a widow whose husband left her in a financial shambles. She's trying to explain to a call center operator that she can't put her husband, the named account holder, on the line because he's dead. The operator is so fixed on her script that she doesn't even acknowledge the information.
Maggie Smith plays a comically detestable racist named Muriel, who requires a medical procedure on her leg that she can't afford locally. She reluctantly agrees to visit India to take advantage of a medical exchange program. Muriel makes no secret of her hatred of Indians, ranting about it to anyone who'll listen. The character provides gasp-worthy comedy until she abruptly changes.
Bill Nighy and Penelope Wilton play Douglas and Jean, a couple who should be settling into a comfy retirement, but have lost most of their money and are forced to slum it. Tom Wilkinson plays Graham, a retired High Court judge who has mysterious personal motivations for returning to India. Celia Imrie plays Madge, who's looking to find a nice man, and Ronald Pickup plays the sex-starved Norman, who has left his country because the dating scene sucks.
Nighy, to no surprise, is absolutely wonderful as the hesitant, non-confrontational Douglas. Every line of dialogue he delivers is a delight. His body language tells its own backstory. His dry facial expressions land laughs and evoke emotions with equal simplicity. As he forges a friendship with Evelyn, his relationship with his wife becomes increasingly uneasy. Unfortunately, Wilton is too hindered by bad writing to create an appropriate foil for Nighy. Her character is unwilling to enjoy herself in the foreign land, and all of her dialogue is simplistic and shrill. There's no sense of sympathy to put her hostility in context.
But the unforgivably weak link in the story comes in the form of young Sonny the hotel manager. For some reason, Madden attempts to shoe-horn in a bit of young love, presumably to remind the audience that not everyone is old and British. The black sheep of the family, Sonny needs to make the hotel a success to fulfill his dead father's dream (which he keeps going on about) and earn the respect of his mother and brothers. Only then can he tell his girlfriend (Tena Desae) he loves her and ask her to marry him.
Apart from its cast, the film's greatest asset is its warm, eye-catching visuals. The art direction revels in the country's picturesque decay. Everything's run-down and falling apart—though in the most beautiful fashion—but as pretty as it is, the film offers no real sense of life in India.
The Best Exotic Marigold Hotel treats its characters the same way it treats India. They live in a world in which personality flaws, hangups and other obstacles aren't real problems because they can easily be wiped away with plot mechanics and character revelations. In the end, the film launches an assault of cuteness that undermines any character depth it developed along the way. Good ensemble pieces take discipline to pull off. Best Exotic Marigold Hotel gets so bogged down in boring nonsense that it makes one forget the good parts.
Except for Bill Nighy. No one could forget him.
Director: John Madden
Writer: Ol Parker, based on the novel These Foolish Things by Deborah Moggach
Starring: Judi Dench, Bill Nighy, Dev Patel, Celia Imrie, Ronald Pickup, Maggie Smith, Tom Wilkinson, Penelope Wilton
Release Date: May 4, 2012