Zoe Kravitz Is Catwoman in The Batman
Photo by Bertrand Rindoff Petroff/Getty
Movies
News
The Batman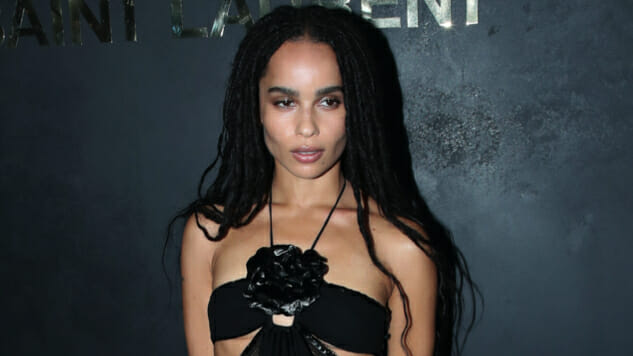 Matt Reeves' The Batman is building up feverish anticipation way ahead of its 2021 release. The exciting casting and production news seems fixated on not letting us, like the film's caped crusader, get any sleep at night. Last night was no exception: THR reports that Zoe Kravitz is the new Catwoman.
Kravitz won the role in a casting process that was reportedly intense and certainly competitive. Others vying for the role included Ana de Armas (Blade Runner 2049), Ella Balinkska (Charlie's Angels) and Eiza Gonzalez (Baby Driver), all of whom, including Kravitz, read with sparkly vampire-turned-Dark Knight Robert Pattinson. Testing began at the beginning of the month and ran till late last week.
Warner Bros., which is producing The Batman, has had Kravitz in a few of its flicks before. Kravitz previously starred as Leta Lestrange in the studio's Fantastic Beasts: The Crimes of Grindelwald, making two Harry Potter alums out of the cast, as Pattinson played Cedric Digory in what feels like another lifetime. Kravitz also voiced Catwoman in 2017's The Batman Lego Movie, so this casting feels like a fitting graduation into the live-action role.
Besides Kravitz and Pattinson, Jeffrey Wright has been confirmed for the film as Commissioner Gordon, while Jonah Hill has been in talks to play an unknown villain from the comics. While Commissioner Gordon is a firm ally and Hill is expected by Twitter theorists to portray the conniving Riddler or Penguin, Catwoman dances along the line between friend and foe in Batman's life, and is also one of his classic (and complicated) love interests.
The femme fatale whose real name is Selina Kyle has been portrayed before by Michelle Pfeiffer in the 1992 Batman Returns, Halle Berry in the solo Catwoman that did not land on its feet in the box office or critics' hearts, and by the former Princess of Genovia who gained an affinity for stealing jewels she used to own when Anne Hathaway played her in Christopher Nolan's The Dark Knight Rises. Hathaway posted a congratulatory message giving her blessing from one cat burglar to another:
So now this Matt Reeves tweet is really all of us, asking Matt Reeves for this movie, now:
— Matt Reeves (@mattreevesLA) October 14, 2019
Assuming he doesn't answer, we'll all have to wait for June 25, 2021, which feels like its nine lives away.