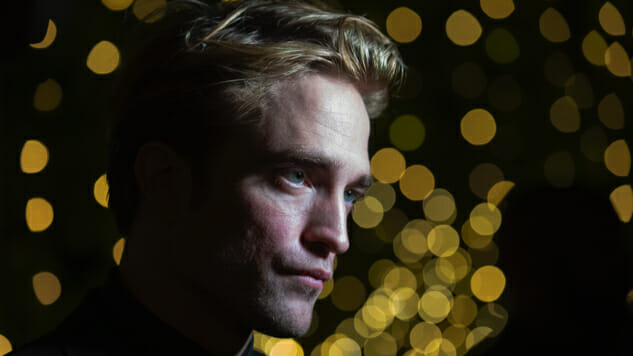 Matt Reeves' much-anticipated The Batman kicked off principal photography this week, as seen in a set photo shared by the Planet of the Apes filmmaker on Monday, and Warner Bros. marked the start of production by confirming the film's core cast, anchored by Robert Pattinson as Batman and Bruce Wayne.
#DayOne#TheBatman cc: @GreigfraserDpic.twitter.com/kOgcsa6zX3

— Matt Reeves (@mattreevesLA) January 27, 2020
A Warner Bros. press release identifies the rest of the film's eye-popping ensemble, which consists mostly of a classic Batman rogues gallery:
Starring alongside Pattinson as Gotham's famous and infamous cast of characters are Zoë Kravitz (Fantastic Beasts: The Crimes of Grindelwald, Mad Max: Fury Road) as Selina Kyle; Paul Dano (Love & Mercy, 12 Years a Slave) as Edward Nashton; Jeffrey Wright (the Hunger Games films) as the GCPD's James Gordon; John Turturro (the Transformers films) as Carmine Falcone; Peter Sarsgaard (The Magnificent Seven, Black Mass) as Gotham D.A. Gil Colson; Jayme Lawson (Farewell Amor) as mayoral candidate Bella Reál; with Andy Serkis (the Planet of the Apes films, Black Panther) as Alfred; and Colin Farrell (Fantastic Beasts and Where to Find Them, Dumbo) as Oswald Cobblepot.
So we've got Kravitz as Catwoman, Dano as The Riddler, Turturro as Falcone and Farrell as Penguin, as well as Sarsgaard as a Gotham D.A. heretofore unheard of in the DC Comics universe—previous reports had indicated the film would include infamous Gotham D.A. Harvey Dent, aka Two-Face, so it would appear Sarsgaard is playing either a new twist on that character, or a new character entirely. Either way, it's safe to say Battinson will have his hands full, with only Wright's Commissioner Gordon and Serkis' Alfred in his corner. Lawson's character's allegiances remain to be seen, as Bella Reál is also a new addition to the DC universe.
The Batman opens in theaters June 25, 2021. Revisit everything we know about the film so far here.