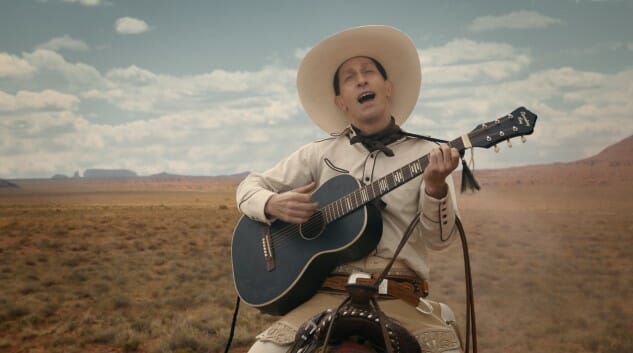 Netflix is throwing its full promotional weight behind The Ballad of Buster Scruggs, in a way that it hasn't on any film in quite a while. Seemingly intent on becoming a legitimate player in the year-end awards scene, the streaming giant is releasing the Coen Bros. western in a limited series of theatrical engagements starting on Nov. 8, before it hits the streaming service for subscribers on Nov. 16. Consider it the best of both worlds—you can see Buster Scruggs in the venue of your choice.
And make no mistake, we do want to see this film, particularly after watching today's charming second trailer, which you can watch below. Each segment of this western anthology seems to be steeped in very different, evocative visual styles, to the point that it at times almost looks more like a Wes Anderson western than one from True Grit's Joel and Ethan Coen. Clearly, this film is a less serious-minded adaptation than the one featuring Rooster Cogburn. This only makes sense, given that the title character played by Tim Blake Nelson seems to be channeling more than a little of his own simpleton "Delmar" character from O Brother, Where Art Thou?
This new trailer also wants to make the viewer aware of the film's stacked cast, from Liam Neeson and Tom Waits to James Franco, Brendan Gleeson, Zoe Kazan and Nelson himself. You'l surely be hearing a lot about Buster Scruggs when it hits Netflix as a result. In the meantime, check out the second full trailer below.