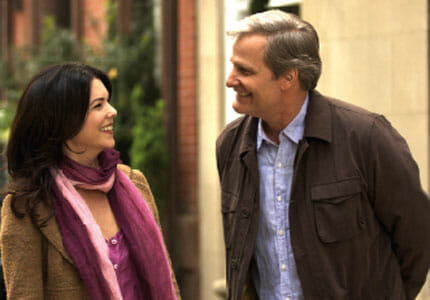 Release Date: July 24 (limited)
Director/Writer: John Hindman
Cinematographer: Oliver Bokelberg
Starring: Jeff Daniels, Lauren Graham, Lou Taylor Pucci, Kat Dennings, Olivia Thirlby
Studio/Run Time: Magnolia Pictures, 95 mins.
Not enough answers
In The Answer Man, Arlen Faber (Daniels) has attained Oprah-level cult status after penning a book called Me and God, a book that "redefined spirituality for a generation." But unlike Oprah, Arlen hasn't made a single public appearance since his book was published 20 years ago—no readings, no lectures, no television appearances. Instead, hiding out in his Philadelphia townhouse, he's insulated himself from the masses.
But his perfectly ordered if misanthropic world is shattered when Arlen meets Elizabeth (Graham), a single mother attempting to make a new start, and Kris (Pucci), a recovering alcoholic trying to stay sober, take care of his father and keep his bookstore open.
The Answer Man comes close to hitting the sweet spot of quirky, dark romantic comedies: The cast is great, the characters are complex and the story is unpredictable. The film is threaded with struggles worth exploring: Feeling safe, dealing with absent fathers and understanding what it may actually mean to hear from God.
Unfortunately, first-time writer/director Hindman hasn't quite tied these threads together. Characters make inspirational-sounding statements that are either vaguely negated or made ironic by the conclusion. The Answer Man is reaching for something but never quite grasps it.