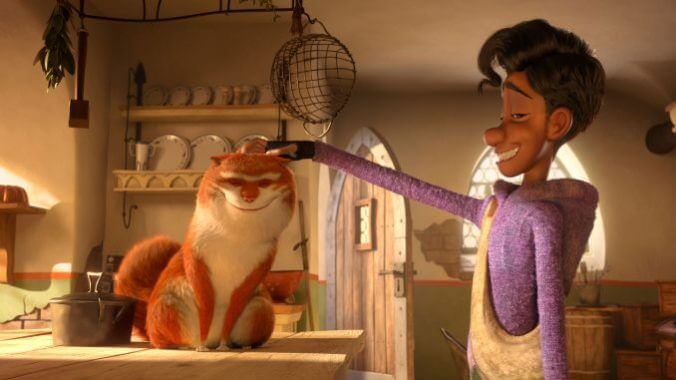 Adapting Terry Pratchett's Carnegie-winning Discworld book, The Amazing Maurice is a successfully wry, odd, utterly British spin on the Shrek-like self-aware fairy tale. Stuffed with motormouths and throwaway gags, the chunky animation can be a little off-putting, but its momentary ugliness feeds into its delightfully dark villains, its underdog heroes and the strange story tying them all together. This isn't pristine, groundbreaking, photoreal CG, but cartoonishness that suits its oddballs—and might even give a kid a stray nightmare or two. As a former kid with a lot of affection for the animated movies that used to freak me out, that's a compliment.
Turning the Pied Piper story on its head, and then flipping it around again so that it's right-side up but utterly disoriented, The Amazing Maurice asks plenty of its young audience. They'd better be able to keep up with Malicia's (Emilia Clarke) rapid sledgehammer blows smashing through the fourth wall, because the narrator finds herself wrapped up in her own story; they'd also better be able to parse the nested myths explaining how some of the tale's animals came to grasp such intelligence. But, because the film has faith in its young viewers, it's completely achievable.
Perhaps it's because the lore, and the narrative skirting around its edges, is so silly. The talking tabby Maurice (Hugh Laurie) and his clan of equally magic rats (filled with endearingly named members like David Tennant's wizened old leader, Dangerous Beans) don't show up with a particularly trenchant goal in mind. They arrive as scammers, working with recorder virtuoso Keith (Himesh Patel) to scare townsfolk with a pest problem, then just as quickly rid them of it—for a generous donation, of course. The kingdom they traverse is dependent on a rat-based logic; the next town they hit is already dominated by mysterious rat-catchers and, still, somehow, blighted by famine.
Written by one of the people behind the Shrek script, Terry Rossio, The Amazing Maurice's screenplay is quick with the set-ups and quicker with the jokes. If you're going for pure speed, you can't beat the mile-a-minute performance from Clarke, whose penchant for speedy delivery and comic guilelessness remind you of how much energy she brings to even her most underwhelming rom-com projects. Laurie's arrogant charm provides a winning counterbalance, though the film eventually introduces enough characters (myriad rats, a mayor, the actual and very frightening Pied Piper, and even Death) that the main performances can get a little lost in the shuffle. Until then—especially until the film wanders off on an extended sidequest with Malicia and Keith, the latter of whom is nearly a parody of non-character protagonists—it's an engaging children's mystery with just-clever-enough commentary on narrative structure and bedtime story tropes.
These elements, like the seeking of various MacGuffins or the inevitable romantic attraction between the human leads, is savvy enough to check all the tired screenplay boxes without wearing out the adults who'll recognize them. More thoughtful kids will use the irreverence with which they're treated (Keith's chosen-one narrative is utterly, amusingly useless) to question the standard architecture of their fables. Others will simply be freaked out by the inventive and very scary villains. The big bad's true identity is never in question, but David Thewlis' slithering vocal performance does its best to bring it into the pantheon of "too grossly evil for a kid's movie."
It's with this character's design and the havoc he wreaks—leading to a run-in with Death and his corresponding rodent co-worker, the Bone Rat—that The Amazing Maurice's character designs find their groove. The cutesy rats, the Dreamworks-proportioned humans, the big and too-toothy cat—they're not exactly innately charming creations. But they all have a bit of an edge, which is fully unleashed in Thewlis' antagonist. A shifty, shadowy being encased in a trenchcoat and wide-brimmed hat, his inhuman movements and just-off dimensions feel more like one of Stephen King's nightmare beings than something from a kid's book. Unless you count It as a kid's book.
It's when The Amazing Maurice leans into its boundary-pushing intelligence that it overcomes its underwhelming aesthetic and sometimes-trite storytelling. While it cuts some of Pratchett's most incisive and dark components (like the intelligent rats navigating relationships with regular rats) in favor of cinematic comprehension, it's still a faithful enough translation to win fans over—and introduce kids to a welcoming literary world that takes the piss out of everything around it.
Director: Toby Genkel
Writer: Terry Rossio
Starring: Hugh Laurie, Emilia Clarke, Himesh Patel, Gemma Arterton
Release Date: February 3, 2023
---
Jacob Oller is Movies Editor at Paste Magazine. You can follow him on Twitter at @jacoboller.
For all the latest movie news, reviews, lists and features, follow @PasteMovies.