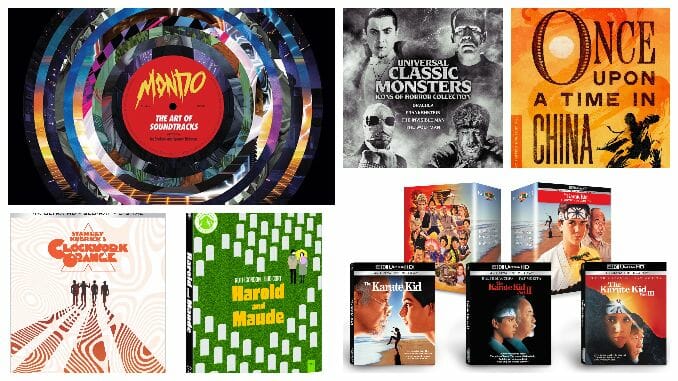 Christmas looms, supply shortages abound, and spiking variants mean postponed family gatherings. In this age of make more lemonade from those lemons, let's look at the bright side—you've got the best excuses ever for showering your friends and family with gifts even after that jolly ol' home invasion expert makes his rounds. Here are some options!
4K, Both Bundled and "Free Range"
Let's hear it for the one technological arms race that will keep plugging along no matter the circumstances—the quest for the newer, bigger, clearer television set. This Christmas, you can bet that at least a few friends and family will be upgrading their home-viewing screen of choice, and that means the continued expansion and relevance of the current "top-tier" tech for their movies collection. After all, they may have updated their VHS and DVD editions of their favorite movies a while ago, but 4K-sized holes still remain. Help them!

Star Trek: The Original 4-Movie Collection 4K UHD+ Blu-ray (Paramount Pictures)
Many of Paramount's recent remastering efforts have been exceptional (quite a few of which can be found elsewhere in this guide) and the results of their work on these four films will make anyone used to the 2016 remasters stand up and holler. In addition to the theatrical versions of each film, the set also includes the director's cut of Star Trek II: The Wrath of Khan but, alas, not Robert Wise's Director's Edition, which is scheduled to air on Paramount+ in 2022 (UHD Blu-ray, hopefully, release to follow. The set also includes all 4 films on newly-remastered 1080p discs, as well as digital copies. Keep in mind, however, that while the regular Blu-ray discs are available individually, this set is currently the only place where you can see James Tiberius Kirk shout "Khaaaaaaaaaaannnnnnnnn!" in glorious 4K! —Mark Rabinowitz
Indiana Jones 4-Movie Collection 4K UHD (Paramount Pictures)
In movie history, there are very few films one might legitimately refer to as perfect but 1981's Raiders of the Lost Ark comes pretty damned close and was the start of one of the best trilogies in motion picture history. All four films in the series have been scanned and restored from the original camera negative, with Dolby Vision and HDR10, and are a massive leap over previous releases. If, like most people, you've only seen Indy on streaming or previous Blu-ray releases, this will seem like going from a scratchy cassette tape to a reference quality CD, or for anyone that isn't old like me, like going from an iPhone 4 to a 13Pro Max. —M.R.
The Karate Kid Collection (Sony Pictures)
1984's The Karate Kid was a seminal film for Gen Xers that introduced phrases like "wax on, wax off" and "sweep the leg!" into the American lexicon well before the high school karate rivalry between Daniel Russo (a baby-faced 23 year-old Ralph Macchio) and Johnny Lawrence (William Sabka) inspired a TV sequel a mere 34 years later with Netflix's Cobra Kai. The first of the trilogy was released on UHD in 2019 but here has added both the all-important Dolby Vision color grading and a few new extras, including deleted scenes on the first two films and a commentary with Macchio and Tamlyn Tomita on Karate Kid II. —M.R.
(Also of note, the Warner Bros. release of the Mad Max Anthology in 4K, which includes the UHD debut of Mad Max: The Road Warrior and Mad Max: Beyond Thunderdome.)

Silence of the Lambs
While credit needs to be given to Criterion, as this release uses the same 4K digital restoration that was approved by cinematographer Tak Fujimoto for their 2018 release, the addition of Dolby Vision HDR and the fluidity of the native 4K transfer makes this this particular version of the Clarice-Hannibal waltz a clear step up. The 4K disc contains a new audio commentary by film historian Tim Lucas, while the included Blu-ray also includes legacy extras from previous Blu-ray releases. —M.R.
The Guns of Navarone
One of my favorite World War II films gets the UHD treatment in this fantastic presentation from Sony Pictures. The 2-disc set includes an insert detailing the decades long restoration efforts that began when Sony bought Columbia Pictures in 1989. Sony Pictures has turned out a magnificent release in native 4K with HDR10 and a new Dolby Atmos soundtrack. Starring Academy Award Winners Gregory Peck, David Niven and Anthony Quinn, this epic film sees a team of Allied military specialists take on an almost-certainly impossible mission to infiltrate a Nazi-occupied fortress and disable two long-range field guns so that 2,000 trapped British troops may be rescued. Extras are included on the Blu-ray.
Dune (1984) Limited Edition Steelbook
David Lynch's Dune received a lot of abuse over the years, much of it quite rightly, but in the wake of Denis Villeneuve's recent version—a rare box office blockbuster during COVID times, the interest in Lynch's attempt has probably never been higher. The cast is massive and full of talent, many of whom acquit themselves well, including Francesca Annis, Brad Dourif, Linda Hunt, Kenneth McMillan and Patrick Stewart. A new 4K restoration was made from the original camera negative and the presentation is fantastic and a significant upgrade in contrast and detail from previous releases. This swanky steelbook three-disc edition includes the 1080p Blu-ray, a third disc of supplementary materials and a foldout two-sided poster. —M.R.
A Clockwork Orange
Fresh off of a new 4K restoration comes Stanley Kubrick's 1972 film A Clockwork Orange, an exceptional if profoundly disturbing film and most certainly not for the faint of heart. A rare bridge between "classic film" and "cult classic," it received four Oscar nods (including Best Picture) but the subject matter and a tag line of "Being the adventures of a young man whose principal interests are rape, ultra-violence and Beethoven," resulted in a less-than-smooth path to release in several countries. In the U.S., for example, it was initially rated X, so Kubrick cut 30 seconds of explicit footage for a re-release two months later. All of that is to say it's probably not something to program in a double feature with the next film in this section. —M.R.
Who Framed Roger Rabbit – Ultimate Collector's Edition
When Who Framed Roger Rabbit was first released in 1988, no one had seen anything like it. The combination of live action and animation was a groundbreaking achievement at the time, and the film kick-started the resurgence in American animation that continues to this day. Even though it was rated PG, Disney felt that it was a bit too sexy for their brand, so it was released as a Touchstone film. (There are a few mildly risqué moments, but they'll likely go over kids' heads and are pretty tame by today's standards. The live-action and voice cast are exceptional, with the the latter featuring Mel Blanc in his final performance in a theatrical film, voicing Bugs Bunny, Porky Pig, Daffy Duck, Tweety Bird and Sylvester the Cat. It's a terrific film and deserves this upgrade to UHD. —M.R.
The Good, The Bad & The Ugly
The third film in Sergio Leone's classic Dollars Trilogy sees Clint Eastwood returning for his third outing as "the Good," a.k.a. The Man With No Name (the fact that his character has a nickname in each film is one of the films' quirks) and joins Lee Van Cleef ("the Bad") and Eli Wallach ("the Ugly") in arguably the best of the Spaghetti Western genre. Kino Lorber's notes on the restoration state that the work included "over 30 hours of extensive shot-by-shot color grading and a 4K scan of a 1967 IB tech print as the secondary source" and while the result lacks HDR, the color correction work done makes this release the best version of the film on disc by a country mile. —M.R.
Zack Snyder's Justice League
Look, I hear you. I hear you. There exists in the multiverse a reality where the Justice League of the comics has truly been captured on the big screen, where the spirit of the iconic DC heroes and, more importantly, the spirit of the team they formed is right there, exhilarating to behold. Clearly, we do not live in that universe. Nonetheless, for the superhero movie completionist, this is the only Justice League we currently have, and, to be fair, there are plenty of folks who enjoyed this strange, quasi-unique fruit of the pandemic. If you know someone who falls into this category, you know they're going want the 4K UHD version. —M.B.
---
The Criterion Collection, Plus One

As we do every year, here is a selection of some of this year's Criterion Collection releases…plus one. This year, because of their thematic connection, we're including a non-Criterion title in this section for reasons that will be obvious!
Citizen Kane
Essentially a "film school in a box," this gorgeous 4-disc presentation of Citizen Kane will help anyone who only knows of the Orson Welles classic as a perennial contender for "best film of all time" understand why it has that status. These edition boasts a new 4K restoration for starters (Dolby Vision and HDR10 on the UHD disc) and three Blu-rays with the film and an insane amount of special features, including a 42-page book with an essay by noted film critic Bilge Ebiri.
Mulholland Dr.
David Lynch may be an acquired taste, or maybe Lynch fans are born, not made, but regardless, if you have a Lynch fan in your life (or are one), this new David Lynch-supervised 4K restoration and Dolby Vision HDR is a perfect gift (whenever you bestow it).
One Night in Miami…
The premise of Regina King's excellent One Night in Miami… is one of those "so crazy it must be true" events. That, after winning the heavyweight title of the world as an 8-1 underdog, a then Cassius Clay eschewed a night of raucous Miami Beach partying to instead hang out in Malcolm X's suite at the Hampton House hotel with football superstar and budding actor Jim Brown and superstar singer and producer Sam Cooke and dissect the Black experience in the America of 1964. What exactly happened in that room that night and what the men discussed is unknown, but this engrossing film (written by Kemp Powers from his stage play of the same name) presents a perfectly plausible scenario. Within a year, both Malcolm X and Cooke would be murdered, Brown would be an ex-football star on his way to a successful acting career and Clay would be known as Muhammad Ali. —M.R.
Once Upon a Time in China: The Complete Films and Shawscope Volume One – Arrow Video
The real-life story of Chinese physician, martial arts master and folk hero Wong Fei-hung is so fascinating and he's such a massive figure in China that he featured in over 100 films and TV series made between 1949 and 2018, including the six films in Criterion's Once Upon a Time in China set. Wong is played by Jet Li (I-III, VI) and Vincent Zhao (IV & V). The sixth film, Once Upon a Time in China and America, is only listed in the bonus materials. The films are largely credited with kicking off the Hong Kong martial arts period film craze of the mid-'90s and were produced between 1991-1997 with a break between V and the final film for a >Once Upon a Time in China TV series from 1995-1996, also starring Zhao. The set includes new digital restorations (4K on I-III, 2K on IV & V), new English subtitles, a documentary about the real-life Wong Fei-hung and loads of other goodies.
Shawscope Volume One, is a marvelous introduction to Shaw Brothers Studio, featuring 12 of their classic films on eight discs, including Challenge of the Masters, which stars Chia-Hui Liu as, you guessed it, Wong Fei-Hung! Other films include King Boxer, Mighty Pekin Man and Five Shaolin Masters, as well as two CDs of music from the soundtracks of six of the films. The set comes in a gorgeous "wide screen" boxed presentation, complete with a 56-page book featuring essays, detailed notes for each film and specifics about the restorations of the films, some of which were done by Celestial Pictures between 2002-2007 and some by Arrow in 2021. Founded by Hong Kong brothers Run Run and Runme Shaw in 1958, Shaw Brothers went on to produce some of the most popular Chinese-language films of the time and was a major factor in the 1970s resurgence of kung fu films. Extras are copious, including Cinema Hong Kong: Kung Fu, a doc about the genre that includes … Wong Fei-Hung films! Don't worry if 12 films isn't enough—Arrow has already announced Volume 2 for next year!
---
Classics Making Their Blu-ray Debut

We start with two from Alan Alda, who most, including myself, probably associate with the character Hawkeye Pierce from TV's M*A*S*H and while his TV work is indeed brilliant (34 Emmy nods with 6 wins, for example) he was also an accomplished film actor, as well as a writer and director. 1979's political drama The Seduction of Joe Tynan (dir. Jerry Schatzberg) was his first as a writer, and with 1981's The Four Seasons he added film director to his résumé. Both casts are deep and talented: Barbara Harris, Meryl Streep, Rip Torn, Melvin Douglas and Charles Kimbrough in the former and Carol Burnett, Len Cariou, Sandy Dennis, Rita Moreno, Jack Weston and Bess Armstrong in the latter. Both Blu-rays come courtesy of Kino Lorber.
The Warner Archive Collection continues to release some of the better restoration work on classic films and this year we're highlighting two of them in The Thin Man Goes Home (1947) and 1958's Some Came Running.
Myrna Loy and William Powell are two of the most enduring on-screen couples whose chemistry had audiences entranced for14 films over 13 years, starting with 1934's The Thin Man and winding up with 1947's Song of the Thin Man. The fifth of their six-film Thin Man series is 1945's The Thin Man Goes Home with a new 1080p HD Master from a 4K scan of the "best preservation elements," which has resulted in typical Warner Archive excellence. (The sixth, Song of the Thin Man, streets next month.)
Vincente Minelli's Some Came Running features the first film pairing of Frank Sinatra and Dean Martin and garnered Shirley MacLaine her first Oscar nomination (Best Actress) among five nods for the film. It was also Sinatra's second adaptation of a James Jones novel, the first being 1953's From Here to Eternity, for which Sinatra won his only Oscar. Created with a new 4K scan of the original camera negative, the presentation is up to Warner Bros.' high standards.
---
More, MORE Blu-Ray!

"I want to make $32 million film (over $100 million in 2020 dollars) about the October Revolution and the start of the Soviet Union with a communist journalist as the protagonist … and it's going to be more than three hours long."
This is what I imagine producer, director, star Warren Beatty's pitch to Paramount for Reds was like. Arguably one of the most unlikely Hollywood films ever made, Beatty's idea was likely made more palatable by the box office and critical reception received by his previous film,1978's Heaven Can Wait (co-directed with Buck Henry) which was nominated for nine Academy Awards and made almost $100 million on a $6 million budget.
Both films were released last month after being brilliantly restored and remastered under Beatty's supervision. Reds picked up 12 Oscar nominations, including wins for Beatty (direction), Maureen Stapleton (supporting actress) and cinematographer Vittorio Storaro (Apocalypse Now, The Last Emperor). The two-disc set includes over an hour of legacy content. There are no extras with Heaven Can Wait, which gets its first release on Blu-ray), but the real stars of these releases are the exceptional restorations.
The first of this year's two Robert Altman-directed films, 1975's Nashville, is another exceptionally done Paramount Presents title (#24) and one of the prolific filmmaker's most revered films. This release is "newly remastered from a 4K scan of original elements," and is clearly the best sound and image you're going to get (short of a quality UHD remaster, of course). Extras include the previously released commentary by Altman and the new "24 Tracks: Robert Altman's Nashville" featurette.
Kino Lorber's release of neo-noir The Long Goodbye, Altman's take on Raymond Chandler's detective novel, stars Elliott Gould as famous Chandler shamus Philip Marlowe, alongside a rogue's gallery of shifty and shady characters, including Sterling Hayden, Mark Rydell, Henry Gibson and oddly, Jim Bouton, former New York Yankees pitcher and author of Ball Four, one of Time magazine's 100 greatest non-fiction books of all time. The disc comes fresh off a new 4K master and quite a few legacy extras.
If you ask cinephiles to name their 25 best American films, Hal Ashby's 1971 masterpiece Harold and Maude is likely to get mentioned more often than not. While it also received a now out-of-print Criterion Collection release in 2012 that featured an excellent digital restoration and their usual mouth-watering collection of extras, this release brings Paramount Presents' regular excellence (spine #29), including a new 4K scan from the original negative, as well as color correction and a new remix of the exceptional Yusuf/Cat Stevens soundtrack, using newly discovered tracks.
Miloš Foreman's Ragtime (1981) gets a two-disc 40th anniversary bow on Blu-ray, courtesy of Paramount. As the third Paramount Presents release (#28) in this section, Ragtime was adapted by Michael Weller (and an uncredited Bo Goldman) from E.L. Doctorow's revered 1975 novel and among other things, features James Cagney, who came out of a 20-year retirement, in his final film role. The film also features early career film appearances for Samuel L. Jackson, Jeff Daniels, Andreas Katsulas, Fran Drescher, Ethan Phillips, Debbie Allen and John Ratzenberger. New and legacy extras are included on disc one, but disc two contains a newly discovered director's cut workprint, which has to be gold for Forman fans!
---
Blurred Lines and Mixed Mediums – The TV to Movie to TV to … Wait, Where Are We Again?

By now, we're well past the days of crisp distinctions between mediums when it comes to fantasy and sci-fi worlds (or as investors call them, IP). If you want to have a sense of what's coming down the pike for your favorite TV series, look to the books, or video games or movie after-credit scenes for clues. Well before "The Great IP Stew," it was always a good gift idea to look outside one medium to find gifts for a the fan in your life. But now, animated series could well be the foundation of the next big screen splash.
Star Trek: Discovery made our top 2018 TV top 10 list and continues to be an exceptional series. It's terribly difficult to deal with canon in such a long-running fictional universe but the folks behind Discovery, Picard and Star Trek: Lower Decks are managing quite well. If you or someone you love has not entered into the world of ST:DISCO, as it's known, this is a deep and pretty fantastic dive!
Star Trek: Lower Decks is the first animated entry in the series since Star Trek: The Animated Series (TAS) went off the air in 1974. Billed as an "adult animated series," TAS is the first comedy series in the world of Trek and was created by Rick and Morty writer Mike McMahan.
Our third Star Trek entry this year is a newly released steel book collection of the complete Star Trek: TOS. This is one of those "same discs, new package" releases that we don't cover all that often but, especially for collectors and those who may have come of age during TNG or later, deserves to be highlighted. The original 79 episodes are housed in three gorgeous steelbooks that not only have what collectors call "spine appeal," they also have heft, making them significantly harder to damage, keeping your precious hard media safer from kids, pets and the occasional ceiling leak. —M.R.
Smallville: The Complete Series Blu-Ray makes its full bow a decade after seasons 6-10 finished their stand-alone Blu-ray release with seasons 1-5 making their first appearance in the format and 6-10 receiving an upgrade to the modern MPEG-4 AVC codec, which should improve their presentation quite a bit. Virtually all of the legacy extras are included on the original discs, as well as two additional DVD of extras, most of which were exclusive to the 2011 DVD box set. This is a massive and well-done set of arguably the best live-action Superman series to date and is a worthwhile addition to any fan's Man of Steel collection. —M.R.
Superman: The Complete Animated Series
When it comes to animated comic book pantheons, Batman: The Animated Series rightly resides at the top. But the same creative team helped bring the Man of Steel to the small screen, and that makes Superman: The Animated Series a must-have part of any complete Superman fan's collection. This 25th anniversary, six-disc collector's edition includes commentary and a fistful of featurettes that will plug this particular gap in a loved one's physical media. —M.B
Josie and the Pussycats in Outer Space: The Complete Series
The 2001 live-action film version of Josie and the Pussycats is a criminally underrated masterpiece of satire, and this release brings the classic 1970's Hanna-Barbera animated series to Blu-ray with Warner Archive's customary excellent work. The two-disc collection preserves the rough and charming 1970s animation style and, as an added bonus, eliminates the laugh track, which I couldn't be happier about. Grab a copy and show the kids what Saturday mornings used to look like! —M.R.
---
Movies That Go Bump in the Night: A Collection of Creatures, Killers & Cannibals

Halloween 4K Collectors Editions
Released as part of Shout! Factory's Scream Factory line, these swanky new UHD editions of all five of the original Halloween series films have been given new 4K scans from the original camera negatives (they are now at native 4K resolution) and Dolby Atmos tracks/mixes on both the UHD & standard Blu-ray discs. Not only that, but they boast Dolby Vision HDR as well (the 2018 UHD of Halloween was upscaled and sans DV). Of course, they each live up to Shout's customary high standards and are practically bursting with new and legacy features. —M.R
Universal Classic Monsters: Icons of Horror Collection 4K
Dracula, Frankenstein, The Invisible Man and The Wolf Man. That's a pretty good starter set! All are 4K scanned from the existing source material and blessed with HDR10. Considering Dracula and Frankenstein are 90 years-old and The Wolf Man is 80, the fact that these films look so great is a testament to film preservation and the work done by archivists over the decades. The set contains eight discs (UHD and Blu-ray), a digital code and, unlike many UHD releases, the copious extra features are on both the UHD and standard discs, including George Melford's 1931 Spanish-language Dracula, which was shot concurrently with Todd Browning's English-language version. A few years ago, Universal released a full 31-film collection on Blu-ray and it stands to reason that eventually, some or all of those films will make it to 4K, but these things take time so for now, enjoy those monsters we have. —M.R
Misery
Ah, the joys of lying in a comfy bed on a snowy day, having your needs attended to by someone who really cares for you. Okay, fine—this Kino Lorber release does remind us how misleading words can be. Recognized as one of the best Stephen King adaptations out there, Misery catapulted Kathy Bates to fame, delivered a pretty terrifying look at the dangers of fan fictions, and provided viewers averse to ankle injuries with enough "Nope! Nope! Nope!" to last a lifetime. Beyond the 4K Ultra of it all, this set contains audio commentary from the director and screenwriter and seven—count 'em, seven!—featurettes. —M.B.
Invasion of the Body Snatchers
Thanks to the pandemic, anyone who has ever found fault in the reaction of the public in a horror film—"Well, that's not very realistic!"—has had plenty of reasons to … reassess. But while COVID-19 has changed assumptions regarding how stupid the public might be in dealing with a global plague, it also has added ample resonance to 1978's Invasion of the Body Snatchers. Long on the list of "remakes that might work better than the original," the iconic "surprise" ending of director Philip Kaufman's remake hits even harder during a time when the simplest communication could trigger shocking revelations about the person you're speaking with. (Oh, the inhumanity.) That aside, this Kino Lorber edition provides a fan with a swarm of interviews and other featurettes covering nearly every aspect of the production. Gift it to your pod. —M.B.
C.H.U.D.
For those who don't yet know C.H.U.D. or are longtime C.H.U.D. B.U.D.S., Arrow's new edition of the classic low-budget '80s horror is the way to experience the underground monstrosities and the surprisingly great actors delving the NYC depths to find them. A crisp new restoration makes the sets and costumes look as grimy and fun as possible while new interviews with people like production designer William Bilowit shed light not only on what the day-to-day work on the cult favorite was like, but what it was like making scrappy horror movies in the '80s. Enjoy performances by Christopher Curry, John Heard and Daniel Stern before spotting a young John Goodman as a lecherous (and short-lived) cop in 1080p. —Jacob Oller
Legend
Packed with a slew of artistic extras—ranging from an illustrated booklet to Annie Leibovitz cast portraits (what?!) to lobby cards—the new Arrow edition of Ridley Scott's Legend is just as over-the-top and lush as the film itself. Want to celebrate Sir Ridley's excellent 2021 in style? Let me recommend his movie where Tim Curry is the Devil—who definitely, definitely inspired Tenacious D's recurring Satan. Like many Scott films, Legend has multiple cuts: This two-disc edition contains a new restoration of the U.S. theatrical cut and the director's cut, in addition to a new crew-focused featurette and commentary track. But really, the selling point here is the look. And if you're into Legend, you know how far a little eye candy can go. —Jacob Oller
Yokai Monsters Collection – Limited Edition
For fans of Pokemon, old-school ronin movies, Japanese mythology or just plain ol' camp, Arrow's new Yokai Monsters Collection hits the spot. A four-movie collection combining the '60s Daiei Film Yokai trilogy (100 Monsters, Spook Warfare and Along with Ghosts) with the 2005 Takashi Miike reprise The Great Yokai War, the collection's hefty booklet and context-giving documentary Hiding in Plain Sight offer a multitude of ways into the fun films—whether you've got any academic interest in the silly monsters or not. The costumes, prosthetics, puppets, and animation are all delightful, especially when juxtaposed with the more traditional drama plotting permeating the films themselves. Spook Warfare is the strongest of the group, with The Great Yokai War bringing its own Miike-level freakout to the party, but nothing beats binging them all in one long, wild evening of long-necked women, umbrella beasts, friendly kappas, and late-night ghost stories. —Jacob Oller
---
Books to Buy and Have By

Mmm … coffee table books. Conversation pieces. Neat things on shelves and surfaces that are fun to look at and react to. They still make those, even if the number of gatherings have been much reduced the last few years! Here's proof, courtesy of Insight Books.
Tarantino: A Retrospective: Revised and Expanded Edition
Adding a chapter on 2019's Once Upon a Time in … Hollywood, this book is an obvious get for anyone who loves the movies of Quentin Tarantino. Critic Tom Shone's tribute to the director is of course more visual hagiography than exposé, but that really does make for a enjoyable trip through the artist's unique oeuvre. —M.B.
Mondo – The Art of Soundtracks
When looking for presents for the cinephile in your life, actual tomes have increasingly become almost a wild card of sorts. They love Alien? I bet they've seen it all … or have they? Mondo – The Art of Soundtracks collects the art associated with unique vinyl pressings of movie soundtracks by Mondo and sister label Death Waltz Recording Co. With a foreword by soundtrack giant Michael Giacchino, this book makes a great, unexpected gift. —M.B.
Gotham City Cocktails: Official Handcrafted Food & Drinks From the World of Batman
Unlike those often ridiculous paperback "cookbooks" inspired by films and TV series with ridiculous recipes that sound like they were written by an AI, Insight Editions has published a top-notch, hardbacked tome of serious libations, complete with an equipment checklist, organized by style of drink (shaken, stirred, punches, digestifs, etc.) and even featuring a suggested cocktail pantry. Orgeat syrup, anyone? While the names may be inspired by heroes and villains ("The Botanist" – Poison Ivy), they are anything but cheap knock-offs. Author André Darlington has written several booze books and while I haven't been able to try these recipes as of yet, I'm no slouch in the cocktail department and I can vouch. The only quibble I have is that the book lacks an index, which could be frustrating for those wanting to center a home Batman film festival around a particular alcohol. —M.R.