The Official Trailer for Terry Gilliam's The Man Who Killed Don Quixote Unveils Its Gonzo Plot
Images via YouTube
Movies
News
Terry Gilliam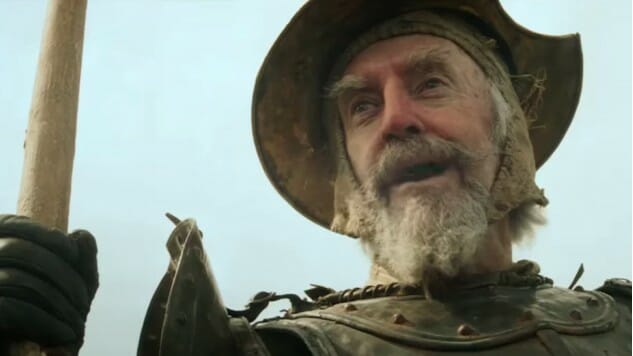 Terry Gilliam's The Man Who Killed Don Quixote, 20 years in the making, will finally debut at Cannes next month. The film faced a ton of development and production issues, all of which were detailed in the documentary Lost in La Mancha.
The expectations for this film are unfortunately sky-high due to its long-awaited release. Judging from the trailer and the comically crazy-looking plot, the film seems to have little hope of living up to its expectations. Perhaps critics will adore it, but Gilliam has never had much success with reeling audiences into theaters. His last film, The Zero Theorem, underperformed immensely at the box office.
Regardless, it's a feat in it of itself that Gilliam finally completed his film. Its premiere at Cannes will most likely reveal its fate, whether it will receive a massive theatrical debut or face an unmemorable limited release. The film stars Adam Driver as an advertising executive who, per its official synopsis, "jumps back and forth in time between 21st century London and 17th century La Mancha, where Don Quixote mistakes him for Sancho Panza"—Jonathan Pryce plays Quixote himself. Olga Kurylenko (Oblivion) and Stellan Skarsgard (Thor) also star in the film.
The Man Who Killed Don Quixote has no theatrical release date yet, but it will be seen on May 19 in Cannes as the closing night film to the festival. Enjoy the new trailer below and check out the first teaser trailer here.